US gold rush in Osaka
The Americans reasserted their supremacy by finishing on top in the 11th World Athletics Championships, writes Alastair Himmer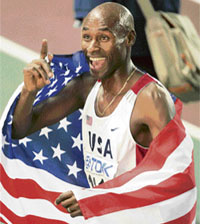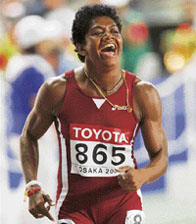 American Tyson Gay's explosive sprint treble highlighted his country's continued track dominance at the World Athletics Championships. As the Americans celebrated, hosts Japan scratched their heads as the inquests began into how they won just a solitary bronze in Osaka.

Susanthika Jayasinghe (left) secured a bronze for Sri Lanka in the 200m sprint; Kenyan-born American runner Bernard Lagat completed a rare double by winning the 1,500m and 5,000m races. — Photos by Reuters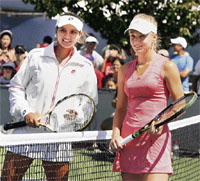 Sania's nemesis
Sania Mirza's victory caravan halts abruptly at a speed breaker called Anna Chakvetadze and, after the US Open third-round loss, the Indian ace is scratching her head over how to clear the obstacle in future. Sania was tamed by Chakvetadze 6-2, 6-3 at Flushing Meadows and it was the fourth time in her career that the Hyderabadi fell to the world No. 6 Russian meekly.

Russia's Anna Chakvetadze has made it a habit of beating Sania Mirza. — PTI photo

Uncrippled grit
Amanpreet Singh
Physical disability did not deter Baba Manindra Paul from taking up mountaineering. Now, he has set his sights on becoming the first disabled person from India to scale Mt Everest. Paul scaled Mt Abigamin (24,130 ft) in 1994 on crutches. However, ministerial bottlenecks have frustrated his plans to climb Mt Kamet, a pre-Everest expedition.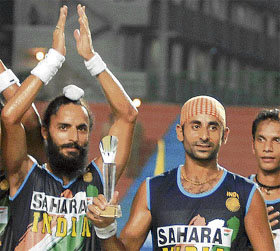 Rajpal Singh (left) and Prabhjot Singh have given a tough time to rival defenders in the hockey Asia Cup, guiding India to the semifinals with their superb strikes. — PTI photo
IN THE NEWS
Best foot forward
He is the best thing that has happened to Indian football in recent years. Delhi's Sunil Chetri played a key role in securing India's maiden Nehru Cup win recently. His lethal partnership with Baichung Bhutia helped the team upset Syria in the final.
MAIL
Indian football alive & kicking
Congratulations to the Indian footballers for outsmarting the higher-ranked Syrians in the Nehru Cup final. The tournament had been revived after 10 years, and the hosts made the most of this opportunity. Credit goes to English coach Bob Houghton for infusing killer instinct into the players. The icing on the cake was the bonus announced by the sponsors.