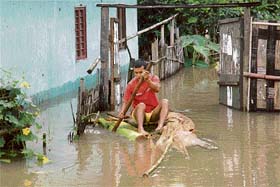 A man on a raft made out of banana tree at Khetrigao in Imphal on Saturday as the flood situation worsened in the North-East. — PTI
Prez for focus on women literacy
New Delhi, September 8
Underlining the need for according priority to women literacy and education, President Pratibha Devisingh Patil today stressed that if women were made literate they would be self-reliant and the beneficial impact on society would be manifold.
No threats in Osama's new video
New Delhi, September 8
There are a few important operational details in Osama bin Laden's new video. The first and foremost is that the Al-Qaida chief is alive and well. Second, the video, bin Laden's first in 34 months, was in all probability recorded in mid-August.
No curbs on N-sovereignty acceptable: BJP
New Delhi, September 8
BJP president Rajnath Singh today made clear that India could not accept a situation where the country's nuclear sovereignty and weaponisation programme was restrained by any international agreement.
RSS men to remain with BJP
New Delhi, September 8
Bharatiya Janata Party president Rajnath Singh today asserted that there was no question of sending back RSS whole timers and dismissed rumours of differences between the Sangh and the party.
India doesn't need US light water reactors: Scientist
Mumbai, September 8
India need not depend on US for Light water nuclear reactor (LWR) technology, as Indian scientists are capable of making it, said a top nuclear scientist.
INSAT 4CR in orbit
Bangalore, September 8
India's latest communication satellite - INSAT 4CR has been successfully placed in near-geosynchronous orbit with the fifth and final orbit-raising operation being conducted from the Master Control Facility at Hassan today.
Sting operation: TV channel CEO questioned
New Delhi, September 8
The police today questioned the head of TV channel Live India in connection with the sting operation on a schoolteacher, which the investigators claimed was "stage-managed".
Rajsamand mishap toll 86
Jaipur, September 8
The death toll in Rajasthan's worst ever road accident in Rajsamand district has gone up to 86 with the death of a woman in an Udaipur hospital. Superintendent of Maharana Bhupal Rajkiya hospital S.K. Kaushik said 10 of the injured were admitted to the hospital.
Murder Case
MP in judicial custody
Kolkata, September 8
The Congress MP from Behrampore, Adhir Chowdhury, was sent to 14 days in jail today by the additional SDJM, Katwa, for his alleged involvement in the killing of a CPI (M) member Anchal Pradhan at Ketugram in September 2003.
8 ultras give up arms
Guwahati, September 8
Eight hardcore terrorists including six from the banned ULFA and two from Karbi Longri North Cachar Hills Liberation Front (KLNLF) surrendered before the Army at two simple ceremonies organised at Army camps at Tamulpur in Baksa district and Lengri, West Karbi Anglong respectively today, the Army informed.
Ban on student body poll
Stray violence across UP
Lucknow, September 8
Sporadic violence was witnessed in various cities and anti-Mayawati slogans reverberated across the university campuses of the state as students poured out on roads protesting against the government's order banning student union elections in the state.
Boy brutally tortured at school
Ahmedabad, September 8
An eight-year-old student of a private school in Gujarat's Bharuch district was physically tortured by school authorities for a minor fault, his parents alleged today. "We have filed a complaint yesterday against the director of Manav School located at Rampura after our child, studying in class II of the residential school, was tortured," said Dipak Patel, the victim's father.
Major: Hawk induction next month
Bangalore, September 8
Indian Air Force chief F.H. Major yesterday said British Hawk would be inducted into the IAF in October even as he said the country's choice for the proposed multi-role jet fighter would depend on the operational cost of the planes in race for the order.
Navy swears by wargames
New Delhi, September 8
As the biggest-ever congregation of naval warships from five nations began their climax battle manoeuvres after undertaking four days of intense action in the Bay of Bengal, a top Naval Commander today said these had afforded India a "professional interaction".
'Puja' to prevent mishaps
Agra, September 8
Seeking divine intervention to ward off road accidents, scores of women here have taken to sadak puja (road worship) every Tuesday, as they believe offering prayers and performing rituals will prevent their loved ones from falling prey to mishaps on roads.
Tabling of broadcast Bill delayed
New Delhi, September 8
The government today indicated that it was unlikely to table the broadcast services regulation Bill in Parliament next week due to a stand-off with broadcasters on the content code.



Videos
Breeding of endangered tigers.
(56k)
Woes of Kannauj perfume industry.
(56k)
Aamir to add more abs.
(56k)
King Khan turns on the heat.
(56k)