M A I N N E W S
Sharif returns, deported to Jeddah
Afzal Khan writes from Islamabad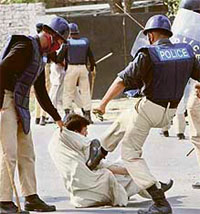 Pakistani police officers beat a supporter of Nawaz Sharif who was trying to march towards Islamabad airport on Monday. — AP/PTI
The government today deported former Prime Minister Nawaz Sharif back to Jeddah, thwarting his bid to end a seven-year exile after spending four tense hours at the Islamabad airport.
Ostensibly ignoring the Supreme Court ruling that allowed Sharif to "enter and remain in Pakistan", the authorities first showed him arrest warrants on charge of money laundering and then whisked him away to a special PIA plane to send him to Saudi Arabia.
Sharif reached Jeddah after four hours and talked to his wife Kulsum Nawaz in London. She quoted Sharif as saying that the authorities had told him that he was being taken to Karachi.
The government maintained that Sharif had signed an agreement brokered by Saudi Arabia in 2000 to live in exile for 10 years in order to buy remission from life sentence he was serving on charge of "hijacking" General Musharraf's plane after sacking him in October 1999. Sharif flew into Islamabad on a PIA flight from London, changing declared plans of travelling by a Gulf Air flight via Muscat, that was apparently meant a mere decoy to confuse the Pakistan government. Earlier on Saturday, Musharraf invoked Saudi intervention to dissuade Sharif from returning to homeland he said was violation of the agreement. Sharif disclosed that he was given to understand that he would be required to stay in exile for five instead of 10 years.
Para-military troops and a strong police contingent had virtually sealed off the airport since early morning to prevent Sharif's supporters from according a pompous public welcome. There was nearly 90-minute stand-off before Sharif got down from the plane, as party activists travelling with Sharif prevented troops to arrest him inside the plane.
The PIA flight landed at the airport at about 8.45 a.m. It was an emotional homecoming for Nawaz after seven years of exile. As he touched the ground, he wiped tearful eyes and told Pakistan and foreign mediamen who had accompanied him: "I feel great. It is most exciting experience to be back among my countrymen. I am prepared to face any situation."
In Rawalpindi and Islamabad, the police battled with defiant PML-N and other political workers firing teargas and resorting to baton charge to block their march to the airport. En route the authorities had erected barbed wire barricades. The plan to take Sharif in a motorcade from Islamabad airport to hometown Lahore where he was expected to receive a tumultuous welcome, was also thwarted by blocking the G.T. Road and conducting a massive crackdown on PML-N leaders and activists across Punjab.
PML-N information secretary Ahsan Iqbal claimed that about 4,000 people were arrested in various cities.
In Islamabad, the government put under detention almost the entire top leadership of the newly formed grouping, the All Parties Democratic Movement (APDM) that had announced to receive Sharif at the airport. They included Maulana Fazlur Rehman, Qazi Hussain Ahmed, Asfandyar Wali Khan, Mahmud Achakzai, Raja Zafrul Haq, Javed Hashmi and others.

Bhutto may return to run for office

London,

September 10
An aide to Pakistan's former Prime Minister Benazir Bhutto said today she would likely return from exile in October in the hope of contesting the national election. "Mrs Bhutto has decided to travel to Pakistan," Bhutto's spokesman Wajid Hassan told Reuters Television in an interview. "She has planned it next month, probably. She will announce it on 14th of September as to the date of her arrival in Pakistan." — Reuters

Deportation an internal matter of Pak: Pranab
Tribune News Service
New Delhi, September 10
India today steered clear of dabbling in Pakistan's internal politics, which in a way conveys that New Delhi is not yet prepared to rock President Pervez Musharraf's boat.
This was quite apparent when external affairs minister Pranab Mukherjee refused to comment on the deportation of former Pakistan premier Nawaz Sharif to Saudi Arabia soon after his arrival in Islamabad. Mukherjee described the Nawaz Sharif episode as an "internal matter" of Pakistan. However, he added that India wanted to have a stable neighbour. "We want all our neighbours to be stable, peaceful and prosperous," Mukherjee said.