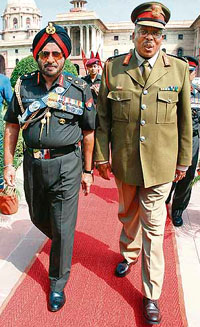 The Chief of Army Staff, Gen J.J. Singh, with the chief of the South African army, Lt-Gen Solly Zacharia Shoke, in New Delhi on Monday. The latter is on a week-long visit to India. — Tribune photo: Manas Ranjan Bhui
Disruption of Houses: Dasmunsi blames Oppn
New Delhi, September 10
Terming as "unfortunate", the continued disruption of Parliament on the Indo-US nuclear deal by the BJP-led opposition, parliamentary affairs minister P R Dasmunsi today said such disruption had resulted in undermining the dignity of Parliament and sending and "a negative message to the country."
N-deal: CPM flays BJP for preventing discussion
New Delhi, September 10
The CPM today condemned the BJP for preventing a discussion on the nuclear deal and other major issues in Parliament by indulging in continuous disruption of the proceedings.
Parliament adjourned sine die
New Delhi, September 10
Both Houses of Parliament were adjourned sine die this evening, four days ahead of its scheduled closure, as the stalemate between the government and the BJP-led Opposition on Indo-US nuclear deal showed no sign of ending.
Action plan to tackle cyber crimes on anvil
New Delhi, September 10
The government will shortly set up a high-powered committee to develop a comprehensive action plan to enable it to deal effectively with possible threats arising out of cyber crimes.
3 reporters held for sting operation
New Delhi, September 10
Taking the sheen out of sting operations and coming close on the heels of school teacher Uma Khurana case, three men were today arrested in the capital for allegedly blackmailing MPs after conducting "exposes".
US suggested India blow up Chinese installations in Tibet: Book
New Delhi, September 10
The United States had asked India to threaten China with military action in 1964 if it did not remove defence installations from Tibet, a new book has revealed. The suggestion was made during discussions the then US Ambassador to India Chester Bowles had in 1964 with the political leadership, including Prime Minister Lal Bahadur Shastri, said a book - India & the United States: Politics of the Sixties, authored by senior journalist Kalyani Shankar.
ULFA ultras kill 2
Guwahati, September 10
Suspected militants of the banned United Liberation Front of Asom (ULFA) shot dead a non-Assamese trader and his driver at Talap in Tinsukia district of Assam at around 7 p.m. today.
Protests over 'killing' of ultra's mother
Guwahati, September 10
Protests are rife in Assam over the death of a 60-year-old woman, mother of a ULFA militant, after she was allegedly beaten up by a search party of the police and CRPF personnel at her residence at Namati in Nalbari district.
'Returning officers found no case against Jaya'
New Delhi, September 10
The Election Commission today informed the Supreme Court that no case of alleged malpractices was made out against AIADMK chief J. Jayalalithaa during the 2001 Tamil Nadu Assembly elections. "In the present case, the returning officers after having considered the matter, had decided that no case for action under Section 177 (furnishing false information to public servant) was made out," it said.
Flyover collapse: 3 suspended
Hyderabad, September 10
Taking serious note of the incident in which scaffolding of a flyover under construction at the arterial Panjagutta junction caved in last night, the Andhra Pradesh government today suspended three engineering staff and appointed a five-member technical inquiry committee to probe the disaster.
Army moves in flood-hit areas in Assam
Guwahati, September 10
Army troops have moved into the worse affected areas in Assam where the year's third wave of flood has claimed nine lives besides inundating 2240 villages in 17 districts affecting a population of 28 lakhs.
Bhagwadgita is national 'dharma shastra': HC
Allahabad, September 10
In an important judgement, Allahabad High Court has said 'Bhagwadgita' is a 'Dharma Shastra' of India and it was the duty of the state to recognise the text as 'rashtriya dharma,' which inspired our national struggle for freedom and all walks of life.
Vidarbha farmers' body blasts Vaghela
Mumbai, September 10
Union textiles minister Shankarsinh Vaghela's statement that cotton farmers in Vidarbha were lazy and hence were forced to commit suicide has drawn flak from representatives of farmers in the region.
Boy's abduction: Nitish pulls up police
Patna, September 10
The higher-ups in the Bihar police today had an altogether different experience with Chief Minister Nitish Kumar holding a closed door meeting to pull them up in the presence of the parents of an abducted boy, who was missing for past one month.
Tehri Reservoir Flooding
Uttarakhand seeks relief package
Dehra Dun, September 10
Receiving a number of new applications from people displaced by the expanding reservoir of the Tehri Dam due to the unprecedented rains in the ongoing monsoon season, the Uttarakhand government is set to approach the Union government for a fresh package of Rs 250 crore for the rehabilitation of the affected people.



Videos
Orissa shutdown.
(56k)
Eco-friendly wealth from waste.
(56k)
Computer training for destitutes.
(56k)
Ghulam Ali's 'Hasratein'.
(56k)