Health Notes
Enzyme producing anti-cancer agents
London: A team of US researchers has created a new form of an enzyme that has the capability of producing a range of potential new therapeutic agents with anticancer and antibiotic properties.
Researchers at the University of Wisconsin-Madison School of Pharmacy say that the novel enzyme is capable of changing the chemical properties of a variety of existing drugs and small molecules to make new agents to treat cancer and fight infection.
"We're finding this enzyme glycosylates all sorts of molecules," Nature magazine quoted Jon Thorson, professor of pharmaceutical sciences, as saying while describing the process of adding natural sugar molecules to other chemical molecules to enhance their biological effects.
Thorson likens the newly evolved enzyme, which he developed working with colleagues Gavin J. Williams and Changsheng Zhang, to a "Swiss Army enzyme", a catalyst that can decorate many different chemical molecules with all sorts of sugars to alter their biological effects. — ANI
Stem cells in tendon may hold hope for injury
London: A new study has identified a set of unique cells within the adult tendon that have stem cell traits, including the capacity to proliferate and self-renew, offering hope for the treatment of tendon injuries caused by overuse and trauma.
"Clinically, tendon injury is a difficult one to treat, not only for athletes but also for patients who suffer from tendinopathy such as tendon rupture or ectopic ossification," Nature quoted Songtao Shi from the University of Southern California (USC) School of Dentistry, as saying.
"This research demonstrates that we can use stem cells to repair tendons. We now know how to collect them from tissue and how to control their formation into tendon cells," Shi added. — ANI
Additives that trigger hyperactive behaviour
London: A new study has revealed that 18 top-selling over-the-counter and GP-prescribed medicines for children contain one or more of artificial additives that can trigger hyperactive behaviour.
Researchers at Southampton University have found that cocktail of food colouings-including tartrazine(E102), ponceau 4R (E124), sunset yellow (E110), carmoisine (E122), quinoline yellow (E104) and allura red AC (E129)-may cause children without unruly behaviour to become more animate, loud, and impulsive.
They say that Calpol paracetamol is one medicine that gets its vivid pink colour from the red dye carmoisine. Sudafed children's syrup has both the red dye ponceau 4R and sodium benzoate (E211), a preservative commonly used in soft drinks, they add.
According to scientists, a number of Benylin and Tixylis brand cough medicines also contain sodium benzoate, which helps prolong their shelf-life.
"The problem for parents with a sick child is that they often have an extremely limited range of medicines to choose from, which means they cannot always avoid these additives," the Daily Mail quoted Ian Tokelove of the Food Commission, a campaign group, as saying. — ANI
Chemotherapy may be behind fatigue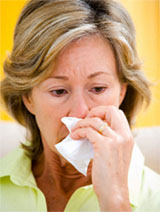 Washington: A study has revealed that breast cancer survivors who underwent chemotherapy and radiotherapy suffer the most severe and prolonged fatigue.
Fatigue is a common complaint in the general population and, anecdotally, common among cancer patients. Comparative fatigue studies between the two populations, however, have been marred by methodological shortcomings, such as poorly matched controls and patient populations.
The studies do not consistently agree whether or not fatigue is a more common complaint among cancer patients compared to the general population.
Dr. Paul Jacobsen from the Moffitt Cancer Center in Tampa, Florida, and co-investigators followed 221 women with non-metastatic (early stage) breast cancer treated with either radiography (n=121) or a combination of chemotherapy and radiography (n=100) and 221 age- and geographically-matched healthy women (i.e., controls) at two, four, and six months after treatment.
These findings provide strong evidence that women with non-metastatic breast cancer treated with chemotherapy are at significantly greater risk for severe fatigue. — ANI