Get keyed up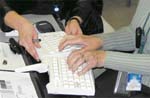 Sunit Dhawan
IF you sincerely wanted to hop on to the IT bandwagon but could not crack the engineering entrance test, donít be disappointed. You still have a chance to become a software professional by joining an MCA (Master of Computer Applications) programme after completing graduation in any discipline. This masterís degree course promises a host of opportunities in IT/software MNCs, apart from grooming one for an entrepreneurial career in software development.
Course chat
Scope for software students vast
There is ample scope in the software sector, says Dr Nasib S. Gill, Head, Department of Computer Science and Applications, Maharshi Dayanand University, Rohtak. Excerpts from an interview:
What is the scope and significance of a degree in computer applications?
Career Hotline
Pervin Malhotra
Lure of leather
Q What are the career prospects in the leather industry? Can you also please suggest some relevant courses?
ó Nabeel Sheikh
Making most of MCA
Q What is the difference between doing MCA through correspondence or regularly as far as jobs are concerned?
ó Lalit Punj
Roman holiday
Q I have heard that many people from Punjab have gone to Italy on a work visa. What is the procedure and how can we apply for it?
óHarpal Singh
ALL ATTRITION ISNíT BAD
Itís about retaining right, not all
Attrition is good as it indicates growth of the economy, growth of industries and also an increasing number of talent with different options to tap, top HR heads of leading companies said in Mumbai recently. "Attrition is not bad for organisations. It is important to retain the right people and not all people," Infosys' Global HR Head, Mohandas Pai, said at SaHveeRyam, a human resource management conclave organised by the S.P. Jain Institute of Management and Research.
Bits & bytes
ACCOUNT ABILITY
The Institute of Chartered Accountants of India has decided to "fully converge" with International Financial Reporting Standards (IFRS) from accounting periods starting on or after April 1, 2011, a senior ICAI official said in Kochi recently.
Return of the Natives
Indian techies in US head home
With India becoming a favoured destination of several multinational companies, thousands of Indian IT professionals in the United States are returning to their homeland with good pay packets, according to a survey. The survey, conducted by Indus Entrepreneurs, an association of Indian IT professionals settled in the US, found that around 60,000 professionals have returned to India in recent years, Michael M Bala, business head of recruitment portal clickjobs.com, said.
SEA ROUTE
Usha Albuquerque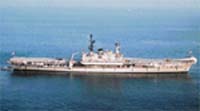 The Indian Navy is making big news these days as it participates in the multi-nation war games exercise off the coast of south India. While the exercise itself has given rise to protests and heated discussions, what it has highlighted, and quite effectively too, is that the Indian Navy is sophisticated enough to conduct exercises with the navies of highly developed countries like the US, Australia, Japan and Singapore. It is this high level of expertise and skills that makes a career in this service a challenging one. A service which is responsible for defending our 7,000-km-long coastline in times of war and peace, the Indian Navy plays not only an important defence role but also that of international policeman of our maritime boundaries, safeguarding Indiaís maritime interests such as offshore oil and gas installations, coastal shipping and fishery rights, and vital trade links.