Get keyed up
Sunit Dhawan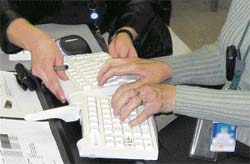 Want to log on to a career in the IT sector, but could not crack the engineering entrance test? Take heart, your chances donít stand deleted. A Masterís in Computer Applications holds the key to a promising future.
IF you sincerely wanted to hop on to the IT bandwagon but could not crack the engineering entrance test, donít be disappointed. You still have a chance to become a software professional by joining an MCA (Master of Computer Applications) programme after completing graduation in any discipline.
This masterís degree course promises a host of opportunities in IT/software MNCs, apart from grooming one for an entrepreneurial career in software development. No wonder, many companies hiring software professionals treat the candidates holding MCA degrees on a par with those possessing BE or B.Tech in IT or computer science.
Eligibility
All graduates who had mathematics as a subject in plus two or those possesing a BCA degree are eligible for the MCA study programme.
The entrance to the course is through a state-level or institutional competitive exam. Reasoning and logical aptitude, mathematical acumen and proficiency in English language, etc are normally tested in the entrance exam.
Logging in
The students who want to pursue a career in computer applications have a wide range of institutions to choose from. Nearly all universities of the region, apart from many professional institutions located in practically every pocket, offer masterís level study programmes in the discipline.
Prominent among these are Jawaharlal Nehru University, New Delhi, Delhi University, Panjab University, Chandigarh, Maharshi Dayanand University, Rohtak, Kurukshetra University, Guru Nanak Dev University, Amritsar, Punjab Technical University, Jalandhar, Punjabi University, Patiala, Himachal Pradesh University, Shimla, and Jammu University.
Course curriculum
On getting admission to the MCA programme, the candidates are required to study mathematics relevant to computer science, a foundation course in IT, computer organisation and assembly language, PC software, structured system analysis and design, data and file structure using C language, computer graphics and multimedia.
They are also trained in the analysis and design of algorithms, database management systems, systems programming, operating systems, artificial intelligence using LISP, distributed computing networks and applications, besides object-oriented programming using C++.
At a higher level, they have to study UNIX and Shell programming, web application tools, e-commerce, software engineering, visual languages programming, Internet programming using C#, software testing and quality assurance, windows programming, IT and network management.
Placement prospects
The MCA degree holders have a good scope of being absorbed as trainees or professionals in multinational companies engaged in software development and programming. Those interested in higher studies and teaching also have a fair chance of going in for a Ph.D or post-doctoral degrees in India as well as abroad. Those desirous of getting a teaching assignment need to clear the UGC NET exam.
The candidates having an entrepreneurial bent of mind also have a bright future in the discipline. They can, individually or in groups, start a software consultancy of their own. They can then develop need-based software packages for their clients.