SEA ROUTE
Usha Albuquerque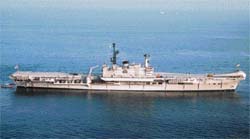 The Indian Navy is making big news these days as it participates in the multi-nation war games exercise off the coast of south India. While the exercise itself has given rise to protests and heated discussions, what it has highlighted, and quite effectively too, is that the Indian Navy is sophisticated enough to conduct exercises with the navies of highly developed countries like the US, Australia, Japan and Singapore.
It is this high level of expertise and skills that makes a career in this service a challenging one. A service which is responsible for defending our 7,000-km-long coastline in times of war and peace, the Indian Navy plays not only an important defence role but also that of international policeman of our maritime boundaries, safeguarding India's maritime interests such as offshore oil and gas installations, coastal shipping and fishery rights, and vital trade links.
Areas of work
The Navy conducts its operations through four main branches.
The Executive Branch manages the navy's warships and submarines as instruments of tactical warfare. Officers of the executive branch command ships, submarines and aircraft. They also deal with navigation, legal issues, air traffic and communication, naval armaments and ammunition, and logistics.
The Marine Engineering Branch is responsible for keeping the engineering equipment and propulsion systems for warships and submarines serviceable. Modern ships, submarines and aircraft abound with advanced technology, machinery and propulsion systems. This branch also includes naval architects who are involved in the design, construction, quality control, repair and new construction work of naval vessels, keeping abreast of the advancement in ship building technology.
There is the Electrical Engineering Branch which deals with the maintenance and upkeep of all electrical and electronic systems, including weapons systems, missiles, radar, and radio communication systems. A warship is a mini-floating city with an integral power generation and distribution system. In addition, complex missile systems, underwater weapons, radars and radio communication equipment form major part of a warship's equipment. A majority of these are either computer-based or computer-aided and incorporate the latest trends in electronics engineering.
The Education Branch helps officers and men of the navy update their technical and academic knowledge. Education Officers are responsible for scientific and methodical instructions, including theoretical aspects of technical subjects of all branches of the navy and for general education. Officers in this branch also specialise in meteorology and oceanography.
Officers of the Engineering and Electrical Branches can also volunteer for the Aviation/Submarine Arm of the Navy. Navy pilots fly ship-borne helicopters and shore- based maritime reconnaissance aircraft, as also the sophisticated Sea Harrier aircraft to locate and attack enemy surface ships and submarines and take part in amphibious warfare, search and rescue, casualty evacuation etc. If you meet the medical standards and have an exceptional record, you can take up the challenge of the Navy's hi-tech war machines, submarines with state-of-the art weapon control systems and computer-controlled machinery.
Shore job
Other sub specialisations include that of the Hydrographic Officer responsible for collecting information for survey work and the charts used by the Indian Navy and other Navies around the world. The Naval Armament Inspection Officers inspect the armaments supplied to the Navy by various agencies, and for in-house research and development leading to indigenisation. A separate cadre of Provost Officers exists to deal with Policing, Regulatory, security and Vigilance needs of the Navy. Similarly, a separate cadre of Law Officers exists to deal with the legal needs of the navy. There are permanent Commissioned Officers as well as Short Service Commissioned officers in the Law Cadre. At sea or on shore, the Logistics Officer has a vital part to play in the technical and human aspects of the ship's organisation. A modern warship is not only a complex fighting unit, but it is also a mini township and community of several hundred people who have to be fed, clothed and paid, whatever the ship's role and whatever it may be. It has also to be constantly supplied with fuel, water and spares for the vast array of sophisticated equipment and machinery. It is a job that requires exceptional managerial skills and the ability to work under pressure.
Sailing in
So how can you join the Men in White?
Selection for all Permanent Commission entries, except plus two (tech) cadet entry and NCC special entry (graduate) is through a written examination conducted by the UPSC, followed by an interview by the Service Selection Board (SSB).
Women officers are inducted into the Law, Logistics, ATC & Education Branches/ Cadres of the Navy.
There are two main routes of entry as Officer into the Indian Navy. There is the Common Entrance examination for entry into the National Defence Academy and the Naval Academy for those who have cleared plus two with science; and the direct entry route after a Bachelor's degree in certain professional disciplines for the technical and professional branches.
The Naval Academy examination is held twice a year in April and September, for a three- year training commencing in January and July. Young, unmarried males between 15-18 years of age with a pass in plus two with science can apply and sit for the exam. Those who qualify in this written exam - which consists of two papers, mathematics and general ability - are called for the Services Selection Board (SSB) interview.
The SSB test which includes a personal interview, outdoor physical tests, psychological assessment and group tests, aims at selecting individuals with OLQs (officer like qualities). The tests procedures are spread over 3 - 4 days and are structured to allow every candidate an equal opportunity to show true potential and worth. Those who qualify in the SSB test undergo a medical examination. Ultimately, the selection to the Academy is based on an overall analysis of an individual's performance in the written examination in conjunction with the performance in the SSB tests and the medical fitness.
Skill set
More than academic requirements, the Indian Navy looks for young men and women with good physical and mental fitness, strong commitment to duty, leadership qualities, initiative, the ability to get on with all kinds of people, willingness to face hardships, with integrity and a range of interests. The careful selection that assesses intelligence and personality ensures that the Navy gets the kind of ideal candidate they need.
There is also a Combined Services Exam for recruitment after graduation. Those over the age of 19 can sit for this exam held twice every year in May and October, and gain admission to the Naval Academy, Goa. The Navy requires a B.Sc in physics and mathematics or a degree in engineering, for direct recruitment to the Naval Academy. Marine engineering, electrical engineering and naval architecture branches of the navy are open under the Cadet Entry Scheme to candidates who have taken physics and mathematics as optional subjects for the plus two examination. Those who qualify under this scheme are required to appear for the Services Selection Board interview too.
There is no written examination for the Short Service Commission entrants. These applications are shortlisted according to the requirement, and selection is through the Services Selection Board. SSC officers may opt for Permanent Commission and if found fit, may be granted the same.
Woman power
The Navy was the first among the services to open its doors to women in the non-combatant cadres of logistics, air traffic and law, all in the executive branch, for which the eligibility requirement is graduation in any subject, and the age between 19-27 years. Women are taken on in the Short Service Commission for seven years, extendable to 10 years.
A career in the Navy means challenging work with immense satisfaction, honour and a high social standing. It is, however, a tough, physically demanding and disciplined life. Life in the Navy could also mean sailing for long periods and living far from family. especially during the early years of one's career.
The writer is a noted career expert