M A I N N E W S
W. Command celebrations begin
Tribune News Service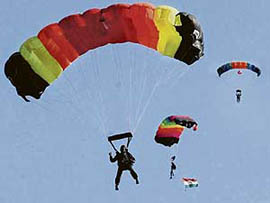 Sky-divers from 1 Para display their skills during the diamond jubilee celebrations of the Western Command in Chandi Mandir on Wednesday. A Tribune photograph
Chandigarh, September 12
A martial arts display and a free fall sky-diving demonstration by commandos of the special forces and a motorcycle display by riders from the Corps of Signals were the highlights of the events marking the commencement of the diamond jubilee celebrations of the Western Command at Chandi Mandir today.
Western Command's raising day falls on September 15, when a memorial service at the Veer Smriti war memorial and an army commanders' conclave are scheduled to be held.
Western Command was raised in Delhi on September 15, 1947, and has played a decisive role in all wars since Independence.
Troops from 1/4 Gorkha Rifles presented a "Khukri dance", which highlighted their martial tradition and expertise with Khukri, the famous curved fighting knife of the Gorkhas.
Dogs from the Army's Remount and Veterinary Corps also displayed their skills in negotiating obstacles, obedience and tracking and capturing suspects. The programme was capped by a band display by massed drummers and pipers drawn from various regiments of the Western Command. Among the tunes was "Gen J J", a quick march dedicated to the Chief of the Army Staff.
A large number of officers, army personnel and their families members attended the programme.
Earlier, the General Officer Commanding-in-Chief, Western Command, Lt-Gen Daljeet Singh, flagged-in a trekking expedition from Mount Leo Pargial in Kinnaur district. The expedition, led by Maj Anil Minhas was undertaken by the Dogra Scouts. The Army Commander also awarded commendation cards to the team members.