Plants as a viable energy source
By Shirish Joshi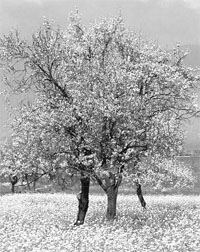 American scientists, like Dr Z. Conrad Zhang who led a research team on the subject at the Institute for Interfacial Catalysis, have discovered the most effective method yet to convert glucose, found in plants like corn and soyabeans grown worldwide and nature's most abundant sugar, to hydroxymethylfurfural (HFM).
HFM is a chemical that can be broken down into components to make plastics in common use today. It is an organic compound derived from carbohydrates such as glucose and fructose and is viewed as a promising starting material for petroleum-based chemicals made currently.
Scientists have been trying all these days to replace crude oil as the root source for fuels, plastics and scores of other industrial and household chemicals with inexpensive, non-polluting renewable plant matter.
Dr Zhang and his colleagues have now directly converted sugars common in nature to an alternative source for those products that make oil so valuable, with very little of the residual impurities that have made the quest so daunting all these years.
However, getting a commercially viable yield of HMF from glucose has been very challenging.
In addition to low yield until now, the processes always generated many different by-products like levulinic acid, making product purification expensive and non-competitive with petroleum-based chemicals.
They were able to achieve HMF yields upward of 70 per cent from glucose and nearly 90 per cent from fructose, while leaving only traces of other impurities. The chemistry at work remains largely a mystery and now they are trying to unravel its secrets.
Another team led by Dr James Dumesic, a chemical engineer from the University of Wisconsin, US, has also found a new, efficient and potentially low-cost way to turn fructose into HMF.
A third team led by Dr Geoffrey Coates, working at the Cornell University, US, has recently succeeded in making polylimonene carbonate, a plastic with many of the characteristics of polystyrene, from carbon monoxide and limonene extracted from oranges.
The exciting aspect of this work is that from completely renewable resources, they were able to make a plastic with very nice, useful qualities.
The key to Coates' successes has been his group's discovery of a new class of catalysts. According to Dr Coates these catalysts are several times more active than the currently used commercial catalysts.
In the long term, switching over to plants, as the raw material for plastics production, is probably unavoidable, if oil is as finite a resource as is currently believed.
Using plants as a source for making chemicals currently becomes competitive when the oil price is at or above $ 55 per barrel. And scientists feel that within the next few years plants could become competitive even with oil at $40-45 per barrel.
Research along the above lines should be taken up in India at the earliest as otherwise the country's dependence on crude oil, indigenous or imported, will go up more and more every day. India is a very large producer of corn soybeans as well as oranges.