COLUMNS



THIS ABOVE ALL

TELEVISTA

GOOD MOTORING

AUDIO SCAN

MUSIC ZONE

WEBSIDE HUMOUR

FOR CHILDREN



CROSSWORD

RHYME TIME

ROOTS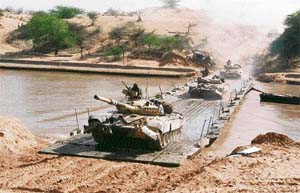 Peace-time exercises in the western sector: Tanks cross a bridge during an offensive in the desert.
Winning Command
It has played the part of saviour ó in times of war, conflict, crisis and natural calamities. Vijay Mohan captures the many milestones and triumphs of the Armyís sword arm, Western Command, on its 60th Raising Day
The Western Command has been the traditional sword and shield of the nation. It has been the guardian of the heartland in peace, low-intensity conflict and war and has rendered invaluable aid to
civil authorities in time of need.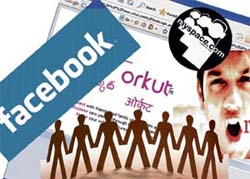 Web of friendship
Orkut, Facebook, Myspace and other social networking sites (SNS) may be looked at sceptically after the recent murder of a Mumbai boy but they continue to be the playground of Netizens, says Anurag Yadav.
The gory killing of Mumbai teenager Adnan Patrawala has shaken up denizens of the virtual world. The murder of a gullible young boy has brought into sharp focus the growing popularity of social networking sites which are becoming a part of every urban young personís life.
| | |
| --- | --- |
| Abhishek Bachchan | Hrithik Roshan |
To shave or not to shave
Phiroze Kharegat
To shave or not to shave is the problem all men have to face every day. At least the office-goers do not have much choice, and have to perform the task daily. As per a Gillette razor company survey, Indians spend 3,600 hours shaving, at the rate of 20 minutes a day.