On June 28, this year the Red Fort was declared a World Heritage Site. This magnificent monument in red sandstone bears testimony to another era, another world. N.L. Batra captures the grandeur of the fort in his book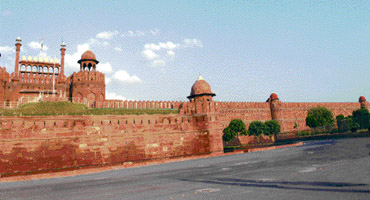 This citadel symbolised the seat of power for the Mughal rulers as well as the British Empire in India. The British occupied the Red Fort till August 1947, after which the Indian Army took it over as a military garrison. In December 2003, the Army handed it over to the Ministry of Tourism and Culture to facilitate work to restore the Fort to its former glory.
Oxford: More than a matter of degree
A fascinating blend of academia and history, Oxford is hard to resist, says Rachna Singh
Oxford is not exactly regarded as the hot spot on a tourist itinerary. It figures significantly only on the 'must-do' list for students attracted by Oxford University's reputation for academic excellence. So whenever I try to describe the beauty of Oxford, I'm met with a stony silence and an expression that seems to say 'Hey, its just another university'.


Fact file
The Great Punjabi Challenge
Randeep Wadehra
Sooner than later it was bound to happen. The famed Punjabi humour has made its presence felt at the national level and how. Four out of six finalists in Star One's latest edition of The Great Indian Laughter Challenge are Punjabis – from Amritsar. There was a seventh Punjabi participant too — Amanullah from Pakistan. With roots in Amritsar, he holds iconic status as a stand-up comedian on both sides of the divide and was a special invitee to all episodes of the show.
SOCIETY
Marriage on the rocks
Most divorces these days happen largely due to incompatibility and adultery. Increasing proximity between colleagues due to long hours at the workplace have dramatically affected the Indian marriage, writes Neeta Lal
Delhi-based couple Om Prakash (65) and Kunti (58) seemed like the epitome of marital bliss. They lived in a sprawling south Delhi mansion, their two sons were settled in the US and their beautiful daughter had married an industrialist. However, rather than enjoy a blissful retirement and the company of grandchildren, the couple is currently embroiled in an acrimonious court battle over familial property and money. The husband and wife separated six months ago.
Think pleasant and sleep well
It's 3 a.m., pitch dark and you can't sleep. How can you survive the next day after being awake so long the night before? Difficulty in sleeping is a common problem but there are ways to escape it."If you offered someone one million euros to fall asleep in 10 minutes, he would not win the money," said Cornelius Kellner, a sleep specialist. It's normal to be awake at night occasionally.
A tradition in danger
There are hardly any takers for the dholak today, which holds little appeal for the new generation musicians. Special festivals on such folk instruments need to be organised to make people aware of this heritage, says Parbina Rashid
Before we set out for the Dholki colony at Mauli Jagran in Chandigarh, my companion had warned me as to what to expect. As we approached the colony, narrow winding roads, littered with garbage and populated by malnourished, semi-naked children, greeted us.
Scoop opera
In the last two decades, media has been the favourite theme on celluloid, writes Ervell E. Menezes
Ever heard of Mad City? It is one of the lesser-known films and made by one of my favourite European directors, the Frenchman Constantin Costa-Gavras, which I caught accidentally on HBO while switching channels recently. Gavras' other films include Z, State of Siege, Missing and Betrayed and I met this docu-drama wizard (he is Oliver Stone's mentor) when he was in Mumbai`A0for IFFI in 1984 with his film Hanna K.
INTERVIEW
'I want to take up bigger challenges
'Irrfan Khan tells V. Ananth about his latest film Apna Aasmaan which is about parenting
Irrfan Khan, who prefers to call himself just Irrfan, is excited about his role in Apna Aasmaan directed by Kaushik Roy, an ad filmmaker, who is making his debut in feature films. The film is about parenting, and the pressures that we put on our children, says Irrfan.
Deprived kids' film
A short film on child rights made by two rescued child labourers will be screened at the Auburn International Film Festival for Children and Young Adults in Sydney. The film, We See, is being screened during the festival between September 17 and 21.
Age of difference
Subhash K. Jha
After two back-to-back tales of autumnal men in love with much younger girls in Nishabd and Cheeni Kum, it's time for Bollywood to swing the other way. Films replicating the Mrs Robinson prototype from The Graduate — of the older woman seducing the boy-man — are set to roll out. Hyderabad-based producer Sudhish Rambhotla wants to cast 49-year-old Dimple Kapadia, and none else, in a faithful adaptation of The Graduate opposite 25-year-old Sammir Dattani in the role of the impressionable student.