Poachers kill flood-hit rhino
Guwahati, September 16
A flood-hit one-horned rhinoceros from inundated Kaziranga National Park (KNP) was shot dead by poachers inside Hatikhuli Tea Estate under Kohora Range of the sanctuary last night.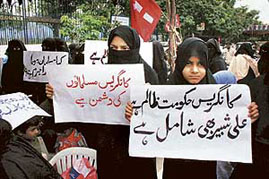 Muslim women demonstrate to protest against the arrest of innocent Muslim youths in the name of bomb blast in Hyderabad on Sunday. — PTI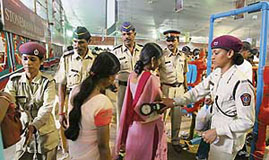 Policewomen frisk devotees at a temple where they had come to worship Lord Ganesha in Mumbai on Sunday. — AFP
Enraged Nitish shifts Vaishali DM, SP
Improper conduct of cremation of thieves' bodies
Patna, September 16
An enraged Chief Minister Nitish Kumar today transferred the district magistrate of Vaishali, Lallan Singh, and superintendent of police, Anupama Nilekar, on charges of failing to ensure proper conduct of cremation of bodies of 10 suspected thieves at Hajipur.
Sethusamudram Project
Thorough scientific review needed
New Delhi, September 16
Religious sentiments and political rhetoric apart, the fact is that the controversial Sethusamudram project needs a thorough scientific and environmental review to put to rest environmentalists' concerns, who term the project a perfect prescription for disaster.
UP to fight for retention of Urdu teachers
Lucknow, September 16
The Mayawati government finally came to the aid of 13,000 Urdu teachers appointed by the Mulayam Singh Yadav government today when it decided to file a special appeal in the Allahabad High Court challenging the court's order quashing their appointment.
Bihar govt to promote Ramayana circuit
Patna, September 16
The Nitish Kumar-led NDA government has decided to promote the famous Ramayana circuit in the state in a big way, targeting Hindu devotees across the country.
Jaya trying to realign with BJP over Ram Setu issue
Chennai, September 16
AIADMK supremo Jayaram Jayalalithaa is trying to realign with her former ally, the BJP, as is evident from the manner in which she has criticised the Centre for its affidavit challenging the existence of Lord Ram and has also taken up cudgels against the Sethusamudram Ship Channel Project (SSCP).
Truce with NDFB on the edge
Guwahati, September 16
The proscribed Bodo militant group in Assam, the National Democratic Front of Bodoland (NDFB), has aired its frustration over lack of progress in the on-going peace process with the Indian goernment and issued a camouflaged threat to break free of the truce.
PM recuperating; may be home today
New Delhi, September 16
Prime Minister Manmohan Singh is recuperating and might be discharged on Monday after his prostrate surgery at the All India Institute of Medical Sciences (AIIMS) here, medical sources said Sunday.
Indo-UK forces to carry out exercises in Ladakh
New Delhi, September 16
It's military diplomacy time for India again. This time with the UK, with special forces from both countries holding high-altitude manoeuvres, aimed at hitting mountain hideouts of terrorists, during 24 days of joint exercises in the forward region of Ladakh from tomorrow.
AP students move SC to protect admission
New Delhi, September 16
Muslim students granted admission in various institutions in Andhra Pradesh under the 4 per cent reservation provided under a law passed by the state but ultimately stayed by the state high court have moved the apex court against the latest order of the high court making their admissions subject to final outcome in the case.
Case lost abroad cannot be fought in India: HC
New Delhi, September 16
In a clear message to NRIs, the Delhi High Court has said that a person who has submitted to the jurisdiction of a court in a foreign country cannot vent his grievances against a ruling abroad in an Indian court on the same grounds.
Research on for rudraksha as medicine
New Delhi, September 16
While non-clinical tests have already proved the efficacy of rudraksha beads of having cardio protective and anti-inflammatory properties, new research is now under way at Mumbai University to ascertain dosage and means of administration to utilise rudraksha as a useful healing ayudvedic medicine.
Phasing out ozone depleting things
Montreal Protocol Award goes to India
New Delhi, September 16
India has bagged the prestigious Montreal Protocol Implementers Award, signifying its emergence as a global leader in promoting smooth transition for phasing out ozone depleting substances (ODS).
Left opposes opening up of armament industry to pvt sector
New Delhi, September 16
The government could face further opposition at the hands of its UPA coalition partners, the Left parties, this time on the issue of opening up of the country's armament industry to private players.
Law Commission favours witness protection programme
New Delhi, September 16
In the wake of several important cases falling flat in court due to witnesses turning hostile either under coercion by the accused and persons close to them or exposure to threat, the Law Commission has favoured using video-conferencing technology to record the evidence of such vulnerable witnesses to keep their identity secret.
Neo-Natal Nursing Conference
Need to boost care of newborns: Renuka
New Delhi, September 16
The minister of state for women and child development Renuka Choudhary today said advanced and literate Western countries are lagging behind in breastfeeding. Delivering the inaugural address at the sixth international neo-natal nursing conference here Choudhary said breastfeeding comes naturally to Indian women and is something that needs to be taught to advanced, literate nations.
Cooperative for drinking water set up in Uttarakhand
Dehra Dun, September 16
Uttarakhand has rich water resources but 38 per cent of its population lacks access to potable water. In view of this, the Uttarakhand Jal Sansthan (UJS), in collaboration with the Indian Institute of Technology, Roorkee, has formed the Cooperation Centre for River Bank Filtration (RBF) at Haridwar.
India-Myanmar-Thailand highway
Road alignment work completed
New Delhi, September 16
Road alignment for the ambitious 1400-km-long trilateral highway that would connect India, Myanmar and Thailand has been completed.
Youth hangs himself in public view
Bhadohi, September 16
In a bizarre incident, a youth climbed up a 65-feet high tree and hanged himself from its branch in full public view rejecting all pleas by the police and fire brigade officials asking him to come down.
Nitish recommends bravery award for minor girl
Patna, September 16
Chief Minister Nitish Kumar has decided to recommend the name of 15-year-old girl Farzana for the bravery award meant for the children to the Centre during the next Republic Day. Farzana risked her life to save five persons from drowning in the swollen waters of the Panar river in Purnea district on Thursday. She saved a woman and three children among others.
6-member panel for pending trials
Lucknow, September 16
Chief Minister Mayawati has set up a six-member committee headed by cabinet minister Satish Chandra Mishra to suggest measures for speedy disposal of pending trials in courts. Inaugurating the Allahabad High Court extension building on Saturday, the Chief Minister, while expressing concern over the growing number of pending cases in the courts said that the situation was harmful for the growth of society.
Eat rasgullah for better eyesight
New Delhi, September 16
Pop a rasgullah, improve your eyesight and remain young. Sounds far -fetched? But now this is possible with a carrot-laced rasgullah being launched in the market.



Videos
Sun basking for longer life.
(56k)
Elephant village in Jaipur.
(56k)
Onions cheapest in Rajkot.
(56k)
Priyanka's no to Hollywood.
(56k)
'Dil dosti etc' rocks.
(56k)