Health Notes
Exposure to pesticide doubles asthma risk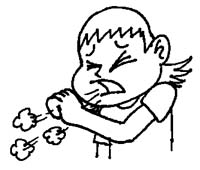 LONDON: Researchers have found that exposure to pesticidal chemical sprays doubles the risk of developing asthma.
Scientists have discovered from the first of its kind study that adults who come into contact with pesticides are at a higher risk of developing respiratory problems.
"The possible scope of the link between pesticides and adult-onset asthma raises a problem of broader interest, given the considerable quantities of pesticides used in the domestic and urban environments," the Daily Mail quoted a spokesman for the researchers as saying.
"Their impact on a population which, while less exposed, has a greater risk of allergies and a higher prevalence of asthma, remains to be determined," he said.
These findings will further increase concerns about the impact of chemical sprays on food and the nearness of schools and homes to farms where they are utilised. — ANI
Cholesterol hinders estrogen's benefits
LONDON: Researchers at the UT Southwestern Medical Center have found that a byproduct of cholesterol metabolism blocks the health benefits of estrogen.
The finding, the researchers state, provides a better understanding of the relationship between cholesterol and estrogen, the primary female sex hormone, in heart disease.
It may also, says lead researcher Dr David Mangelsdorf, shed light on why hormone replacement therapy fails to protect some postmenopausal women from heart disease.
The researchers carried out their study in mice, and noted that a molecule called 27-hydroxycholesterol, or 27HC, binds to the same receptors in the blood vessels of the heart to which estrogen binds.
The normal result of this is that blood vessel walls remain elastic and dilated, and damage to the vasculature is repaired, among other heart-protective effects.
However, earlier studies have shown that postmenopausal women — who no longer produce estrogen — lose this protective action and become more susceptible to heart disease. — ANI
Drug that kills cancer cells developed
LONDON: A drug called STA-4783 has been developed to kill cancer cells.
Unlike current treatments, the drug has very few side-effects, and those who have started taking it have already doubled their life expectancy, with researchers believing that survival rates could be even higher.
"This is the most exciting cancer treatment I've seen in 10 years," Daily Express quoted cancer specialist Dr Tony Williams of Synta Pharmaceuticals, who is developing the drug, as saying.
STA-4783 works by increasing the amount of free radicals in the body and healthy cells can control these damaging molecules. Cancer cells can't, and react by destroying themselves.
"Giving this drug to cancer cells pushes them over the critical threshold. It's like speeding up a banged-up car being driven round at 95 mph. After a while the engine blows. Normal cells are like a well maintained quality car driven within the speed limit which can easily handle something which throws it off course. The older generation of cancer drugs were so toxic some probably did as much damage as they did good. These drugs are much safer. This is a great step forward and will give new hope to patients," Williams said. — ANI
Blood test may help assess fat around organs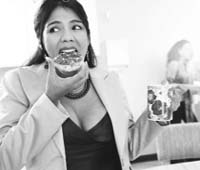 LONDON: A team of US and German researchers has found that measuring levels of a specific protein in the blood may help assess accurately how much fat coats the body's organs.
Researchers from Harvard University and the University of Leipzig analysed 196 people, and found that genes that produce the protein RBP4 were up to 60 times more active in obese people with high levels of visceral fat than in lean people.
In contrast, the researchers found that the same genes were only 12 times more active in obese people with a preponderance of fat lying just under the skin.
The findings attain significance as the build-up of visceral fat has been linked to an increased risk of heart disease and type 2 diabetes.
According to the researchers, a treatment to cut levels of RBP4 may help provide health benefits. — ANI