PUNJAB

HARYANA

JAMMU & KASHMIR

HIMACHAL

REGIONAL BRIEFS

NATION

OPINIONS

MAILBAG

BUSINESS

SPORTS

WORLD

Wednesday, September 19, 2007, Chandigarh, India
Updated at 3:00 am (IST)

Maoists quit Nepal interim govt
Threaten to disrupt poll, raise arms again
The Communist Party of Nepal-Maoists, which had joined eight-party coalition government on April 1, internationally known as April Fool Day, has quit the government four and a half months later.
Uncertainty over poll

Nepalese Maoist supporters at a mass meeting at an open air theatre in Kathmandu on Tuesday. — AFP photo

Karat issues fresh warning
UPA-Left panel on N-deal meets today
New Delhi, September 18
On the eve of the meeting of the UPA-Left committee on the Indo-US nuclear deal, the Communists and the Manmohan Singh government engaged in shadow boxing with the CPM general secretary Prakash Karat setting a time frame of six months for the government to hold the deal and union minister Kapil Sibal asserting that "no government worth its salt can afford to renege on an international treaty".

In video (56k)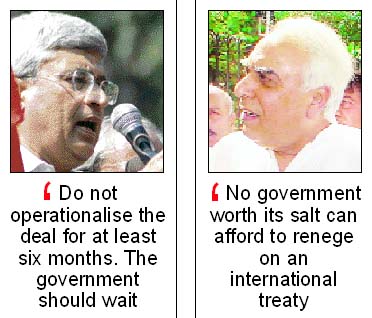 CAST YOUR VOTE
Should plea-bargaining be allowed?

ADVERTISEMENT
ADVERTISEMENT


CHANDIGARH

LUDHIANA

JALANDHAR

DELHI

HIMACHAL PLUS

HARYANA PLUS

AMRITSAR PLUS

LIFESTYLE

BRIDES WANTED

GROOMS WANTED

OTHERS

HOW TO PLACE ADVTS
HOROSCOPE
In Jobs & Careers today


Dhoni is captain of ODI team
Mumbai, September 18
Mahendra Singh Dhoni has been appointed captain of the Indian cricket team for the forthcoming one-day internationals against Australia and Pakistan. The national selectors also announced the squad for the first three ODIs against Australia which would feature Harbhajan Singh and Irfan Pathan.


Mahendra Singh Dhoni
Karunanidhi's daughter's house attacked
Bangalore, September 18
Suspected Sangh Parivar activists tonight attacked the house of Selvi, daughter of Tamil Nadu Chief Minister M Karunanidhi, here tonight hurling a petrol bomb and stones protesting her father's remarks against Lord Ram.
(Details on Nation page)
I'll shed uniform if elected, Mush to SC
Pakistan President Gen Pervez Musharraff on Tuesday undertook before the Supreme Court that "if elected" as president for another term, he would shed his uniform soon after. (Details on World page)
Khadoor Sahib to get thermal plant first
Khadoor Sahib (Tarn Taran), September 18
Underlining the need for planned development, Chief Minister Prakash Singh Badal said here today that detailed micro planning at the block level would be taken up for by the state government. For this, teams of officials would be sent throughout Punjab to get relevant data about the missing infrastructure. (Details on Punjab page)
In Amritsar Plus today
In Jalandhar Plus today
In Himachal Plus today

E - Revolution 2005:
A Two-day IT conclave

Assembly Elections - 2005

Turbans

Chandigarh is 50

125 Years of The Tribune
India: The Tasks Ahead

EARLIER FEATURES

Ramadoss again dodges resident docs
AIIMS convocation put off by one more month
New Delhi, September 18
Union health minister Dr Anbhumani Ramadoss has once again dodged resident doctors of the All India Institute of Medical Sciences here by rescheduling the 35th convocation for October 23 instead of the previously agreed date of September 25. The change in the minister's decision means that 634 of the 700 resident doctors, nurses and Ph.D will have to wait another month to get their hard earned degrees. (Details on Nation page)



Despite Pak protest, Siachen trekking on
First-ever group of 42 to leave today
New Delhi, September 18
Scoffing at protests from Pakistan, India has decided to go ahead with the plan to throw open the icy heights of Siachen, the world's highest battlefield, for adventure tourism with the first-ever group of 42 trekkers being allowed to go to the Eastern Karakoram mountains from tomorrow as had been planned earlier. The ministry of defence said here today that there was no move to call the trek off and asserted that the expedition would be taking place in an area, which was ours.
In Health & Fitness today
Larger SC bench begins hearing
September 18, 2007
Pak amends poll rules
September 17, 2007
Soni offers to resign
September 16, 2007
Govt withdraws affidavits
September 15, 2007
Ram integral to India: Govt
September 14, 2007
No proof Ram existed: Govt
September 13, 2007
Sharif party turns to SC
September 12, 2007
Sharif returns, deported to Jeddah
September 11, 2007
DGP Virk arrested
September 10, 2007
Sharif: No going back on going back
September 9, 2007