THE GATEKEEPER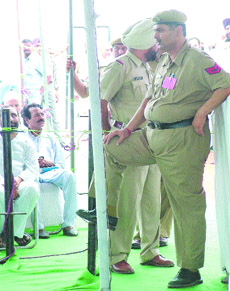 No entry

: A khaki 'heavyweight' stands guard at a passage during a function in Jalandhar. — Photo by S.S. Chopra

NRIs pitch in to make Sangal Sohal a model village
Jalandhar, September 18
Chief parliamentary secretary Avinash Chander today laid the foundation stone for initiating projects for making Sangal Sohal village, near Kartarpur, a model village. The project is a joint venture between NRIs and the village panchayat.
Red-bag probe: No one turns up for crucial meet
Nawanshahr, September 18
The inquiry into the mysterious disappearance of a red-velvet bag containing Rs 51 lakh, which was started last month with much fanfare by the local SAD MLA, Jatinder Singh Kariha, it seems, is yet another political gimmick.
Govt plans to set up media corporation, says Majithia
Nawanshahr, September 18
Public relation minister Bikramjit Singh Majithia, while talking to mediapersons at Bagowal village today, said the state government planned to set up a media corporation for propagating government policies at the grassroots level. The step would bridge the gap between the government and the public.
Students to be made aware about new job vistas
Nawanshahr, September 18
With a view to making the youth aware of the various employment avenues and self-employment ventures, a "mass counselling programme" would be organised in the district from September 20 to October 20. Under it, talks, seminars, exhibitions and interactive sessions would be organised in various educational institutions.
Drunken man kills friend
Jalandhar, September 18
A drunken man, Balkar Singh, allegedly killed his friend, Mansa Ram of the Gandhi Nagar locality, after a brief brawl between them on Sunday night.
Collection Of Taxes
Incentives announced for recovery teams
Phillaur, September 18
To ensure increase in the income of municipal corporations and attract more and more people to pay the required taxes, the Punjab government has once again extended the date to deposit the money to October 20. The interests on the arrears of house tax and sewerage would be waived off for those who deposit the money on or before the fixed date.
No decision on hike of map fee
Phagwara, September 18
Nagar Council Phagwara could not pass any resolution to increase the rates of map sanctioning fee due to strong opposition by several councillor members in a general body meeting held here today. The meeting, headed by council chief Malkiat Singh Ragbotra, was called to increase the fee of residential and commercial properties. However, the resolution was postponed until next meeting of the council. Meanwhile, a resolution to provide land to set up traffic education centre in Phagwara was passed unanimously. Among others, executive officer Paramjit Singh was also present in the meeting.
Guru Nanak function: Cops make special arrangements
Batala, September 18
The police has made special security arrangements to nab pickpockets and chain snatchers to ensure peaceful celebration of Guru Nanak Dev's wedding anniversary tomorrow, according to SSP R.N. Dhoke.