Trading talent
The unprecedented boom in commodity trading, which has multiplied by a whopping 28 times in just three years, has also opened a vast new job market that is now struggling to find enough skilled manpower. Trading at various domestic commodity exchanges totalled a staggering Rs 36,76,000 crore in 2006-07, which was over 28 times the volume recorded three years ago in FY03-04 at just about Rs 1,29,000 crore. In 2004-05 alone, trading volume grew five times to about Rs 5,71,000 crore.

Careercature
Sandeep Joshi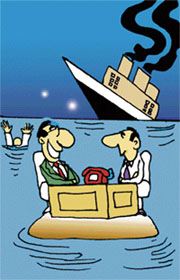 Losing everything has given us enough experience to start a consultancy in this field.

US Top 9
Nine out of 10 best American firms are already in India
Indians looking for a dream job in the United States need not go all the way across the seven seas as nine out of the top 10 American companies to launch a career are present here in the country itself. Global accounting and consultancy giants Deloitte & Touche, PricewaterhouseCoopers (PwC) and Ernst & Young, IT services major IBM and Internet search giant Google have emerged as the top five companies in the US to launch a career, according to a study by finance magazine BusinessWeek.

Bits & bytes
Satyam to create 2,000 jobs in Malaysia
IT giant Satyam has chosen Malaysia as its largest software development hub outside India with a capacity to employ 2000 people in two years. The company's 100-seat Malaysian Global Solutions Centre will expand to over 500 seats in the next few months, according to Satyam Chairman Ramalinga Raju.

Smart Skills
Actuary's job is worth the risk
Usha Albuquerque
Today, when we buy anything of value, the first thing we do is insure it against any risk. Whether it is a house, a new car or bike, jewellery, paintings, our work, and even our health and life itself — an insurance policy is a safeguard against damage or loss. Every pragmatic businessman gets his business insured. Film stars and performers insure their talents — Lata Mangeshkar has insured her voice, Sania Mirza her arms, and J Lo her body (Or, so we're told!). But how do we measure risk, and assess the cost of that risk in different situations?


Career Hotline
Post your success story
Pervin Malhotra
Q I am interested in becoming a Speed Post agent. How can I enroll for this work?
— Lokesh Kumar
A With the postal department allowing private participation in its core activities, one could dial India Post and register with it to become its authorized agent and earn a commission by collecting speed post letters, documents and parcels from the premises of the customers and deposit it at the nearest post office.