US Top 9
Nine out of 10 best American firms are already in India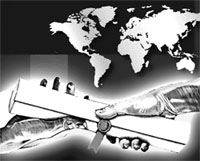 Indians looking for a dream job in the United States need not go all the way across the seven seas as nine out of the top 10 American companies to launch a career are present here in the country itself.
Global accounting and consultancy giants Deloitte & Touche, PricewaterhouseCoopers (PwC) and Ernst & Young, IT services major IBM and Internet search giant Google have emerged as the top five companies in the US to launch a career, according to a study by finance magazine BusinessWeek.
These are followed by the world's largest software firm Microsoft, entertainment giant Walt Disney, IT consultancy major Accenture, defence equipments maker Lockheed Martin and a non-profit organisation Teach for America, in the Top 10.
Excluding Teach for America, all of them have a noticeable presence in India in terms of their headcount and are in process to further expand their headcount here in the years to come.
In its annual survey of best American companies to start a career, the McGraw Hill group's BusinessWeek magazine has named a total 95 such companies in its September 24 issue.
Interestingly, nearly half of these companies have already a significant part of their workforce in India, while a number of others are understood to be working on plans to expand their presence to the country. Besides, nearly all of those already present in the country are expected to expand their India workforce substantially in the years to come.
Besides firms in the Top 10 list, others on the list with a sizeable India presence include Intel, Cisco, Goldman Sachs, Johnson and Johnson, Lehman Brothers, Hewlett-Packard (HP), Dell, Motorola, Unilever, JP Morgan, Careerbuilder.com, Merrill Lynch, KPMG and Prudential.
India already accounts for IBM's largest workforce outside the US, while the Indian strength is expected to soon surpass the US headcount of Accenture. IBM has been named as the fourth best company to launch a career by BusinessWeek, while Accenture is ranked at eighth position.
Most of the firms in the list are expected to increase their Indian workforce in the coming days. For instance, Deloitte plans to augment their India headcount to 12,000 by 2010 from the current strength of nearly 8,000.
Another international accountancy firm PwC, ranked second after Deloitte by BusinessWeek, is expected to nearly double its overall India headcount from the present 4,500 in the next four years. It has 12 offices in different Indian cities and anticipates to double revenues during the same period on the back of various MNCs setting up shop in the country.
E&Y, ranked third, with nine offices also has more than 1,500 employees in India.
Among the technology firms, Accenture earlier this year announced plans to increase the India headcount by 8,000 bringing the total to 35,000. This would be more than nearly 30,000 workers employed by the firm in the US.
Besides, IBM's employee strength in India is expected to be more than 70,000 employees in India by the end of the year compared to about 53,000 in 2006. This would be around 50 per cent of the US headcount of 130,000.
Internet search firm Google has more than 1,000 employees working from its Hyderabad facility and the market buzz hints towards an increase in the headcount to about 4,000 at the centre. The company also has offices in Mumbai, New Delhi and Bangalore. — PTI