Fortnightly Quiz-293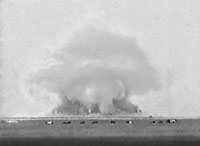 LETHAL POWER UNLEASHED
1 Which anniversary was celebrated by the Western Command of the Army this year?
2 Which country tested the world's most powerful vacuum bomb — termed as "father of all bombs" — with the power of a nuclear blast recently?
3 What new name has been given to the Wagah border by the Indian Government?
4 Which is the world's largest computer chip-manufacturing company?
5 What is the name of Nawaz Sharif's political party?
6 Which island has the world's second largest ice cap?
7 Which tower in Dubai has become the world's tallest building?
8 Which glacier, known as the world's highest battlefield, was recently thrown open to the public?
9 Name the writer of the novel "2001: A Space Odyssey".
10 Name the first bowler to get hat-trick in Twenty20 cricket.
11 Name the first batsman to score a century in Twenty20 cricket.
12 With which sport is Pankaj Advani associated?
13 Which country won the men's Asia Cup hockey title recently?
14 Who won the men's US Open tennis title for the fourth time in a row recently?
15 Which Indian cricketer was chosen as "Women's Cricketer of the Year" during the ICC Awards ceremony recently?
Name…….............……....…..
Class……………...............….
School address….............……
Winners of quiz 292: The first prize by draw of lots goes to Jyoti Bala, 6th, Govt High School, VPO- Chattar, via Rehan, tehsil Nurpur, district Kangra-176022 Second: Harnoor Kaur, 5th-A, St Francis School, Jalandhar road, Batala-143505. Third: Anurag, 9th, DAV Public School, Siwan, Haryana- 136033.
Answers to quiz 292: India; INSAT-4CR; Pakistan; Bishnoi; 100; Ladakh; Brahmaputra; Kenya; Muga; Jharia (Jharkhand); Skin; Afghanistan; Sania Mirza; Sachin Tendulkar & Saurav Ganguly; Mahendra Singh Dhoni
Cash awards of Rs 400, 300 and 200 are given to the first, second and third prize winners, respectively. These are sent at the school address.
Note: Kindly mention the pincode of your place to facilitate the delivery of the prize money.
Answers can also be sent at quiz@tribunemail.com
— Tarun Sharma