M A I N N E W S
Biodynamic Farming Can Help
Urgently wanted: Soil healer in Punjab
Sarbjit Dhaliwal
Tribune News Service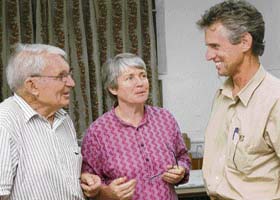 Peter Proctor, Rachel Pomeroy and David Hogg, promoters of biodynamic farming in India engaged in a discussion on the state of agriculture in Punjab. — A Tribune photograph
Chandigarh, September 20
Soil in Punjab has become sleepy, lazy and even dead at certain places because of over exploitation and excessive use of harmful chemicals, including pesticides. "It needs healing," says Peter Proctor, an international consultant on biodynamic agriculture, an advance form of organic farming which in simple terms is described as natural farming, free from the use of pesticides and chemicals.
Along with his life partner Rachel Pomeroy and and close associate David Hogg from New Zealand, Peter visited Punjab for two days. After concluding his visit, he came to The Tribune office accompanied by his associates and Jaspal Singh, an educated farmer engaged in biodynamic farming at Musewal village near Nakodar. Peter, who has been visiting India for the past several years and has formed a Biodynamic Association of India having its headquarters at Kodaikanal, says "green revolution was a wonderful thing to happen but the means used to achieve it made the soil in Punjab ill."
"The first job that requires to be performed in Punjab is to revivify the soil through biodynamic farming in which organic farming practices such as compost, green manure and crop rotation are used apart from various minerals, plant and animal substances," said Peter.
"I have interacted with farmers at Nabha and some other places and they are ready for natural farming," he adds. By using organic carbons, beneficial bacteria and fungal, life can be put back into the dead soil," he adds. Not only soil has become ill but consequently farmers and their families in the countryside are also becoming victims of various diseases because deadly metals, harmful chemicals and pesticides have seeped in their blood through various agricultural practices.
"Biodynamic agriculture is a method of farming that aims to treat the farm as a living system which interacts with the environment, to build healthy living soil, to produce food that nourishes and vitalises and helps to develop humanity," says Peter. In such type of farming, sun, moon and planets and other cosmic energies play a significant role. " Actually the coordinated working together of earthly and cosmic energies is what brings about healthy and nutritious foods," he adds.
Why more and more Americans are becoming obese? Their eating stuff lacks adequate nutritional value. Use of inorganic stuff over the years to produce foodgrains has affected adversely nutritious level in such foods. To fulfil their nutritional needs, Americans eat several times a day and in the process they are becoming obese, says Peter.
It is inhuman to produce a food not fit for human consumption. Contaminated foods are becoming a source of various health-related problems the world over.
David Hogg, secretary of the association, said rehabilitation of earth and water bodies should be taken up at a big scale in a state like Punjab where bulk use of pesticides and fertilisers had created a serious imbalance in environment. He said thousands of farmers in various states had joined biodynamic agricultural movement. "We would like to educate farmers in Punjab in this regard," he said. The association runs a BASIL academy at Mysore to train farmers in this kind of agriculture. Jaspal Singh and his friend Gurattan Singh, settled at Shahjanpur, have got training in biodynamic farming.
"Lot of damage has been done. But it is a right time that Punjab farmers return to natural farming which had remained a hallmark of agriculture for centuries in all parts of the world," adds Hogg.