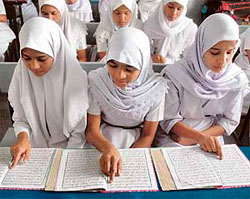 LESSONS IN FAITH: Muslim girls read the Quran in their classroom during the month of Ramazan at MescoGrades Minority School in Hyderabad on Friday. — AFP
PM invites Suni to meet him
New Delhi, September 21
Prime Minister Manmohan Singh today spoke over the telephone to Indian-American astronaut Sunita Williams and congratulated her on her unique achievement and contribution to the human quest for a better understanding of the universe.
N-deal: Cong brings out booklet
New Delhi, September 21
With no signs yet of its stand off with the Left parties on the Indo-US nuclear deal getting resolved, the Congress has started apprising its leaders and workers of the "facts" of the agreement so that they can effectively put the party's case before the people in the event of an early Lok Sabha poll.
Cong distances itself from Karunanidhi's remarks
New Delhi, September 21
The Congress today distanced itself from DMK chief M. Karunanidhi's controversial remarks on the existence of Lord Ram saying the party's views on the issue were at variance with those of the southern ally. Answering queries, party spokesman Abhishek Singhvi said the party's stand could be at variance with other parties in the UPA.
Boeing offers Chinook choppers
New Delhi, September 21
The race for contract for 12 medium to heavy lift helicopters for the Indian Air Force (IAF) seems to have begun with the US aerospace major Boeing today offering its CH-47F Chinook choppers, which are known for its capabilities.
Divorce in 15 min via video-conferencing
Chennai, September 21
A divorce was given within 15 minutes by a Family Court here through video-conferencing based on an e-mailed divorce order to a consenting couple, husband living in the USA and wife living in Australia.
Hyderabad blasts
Gazi remanded in judicial custody
Hyderabad, September 21
An illegal Bangladeshi immigrant, Ridwan Gazi, wanted in connection with the recent blasts in this city, was today produced before a local court which remanded him to two-week judicial custody.
HC stays arrest of 3 IPS officers
Allahabad, September 21
The Allahabad High Court today stayed the arrest of three senior IPS officers suspended recently in connection with the alleged irregularities in recruitment of police constables in Uttar Pradesh.
Judge invokes God to stay transfer of lands
Hyderabad, September 21
A judge of the Andhra Pradesh High Court has invoked the "Almighty" to grant stay on the allotment of lands to private companies on the city outskirts and ruled that the lands were Wakf properties.
UK visa application centres closed from Sept 28
New Delhi, September 21
The UK visa application centres operated by VFS Global across India will remain closed from 28 September to October 3.
Police confirms Hrithik's underworld links
Mumbai, September 21
A senior Mumbai police official today confirmed actor Hrithik Roshan's underworld links, though he added that the star would not be immediately called for questioning.
Lawyers go on strike
Patna, September 21
Lawyers across the state went on a mass strike today in protest against the murder of an undertrial and injury to four others, including three lawyers, in a daring broad daylight attack by unidentified assailants at the Patna civil court yesterday.
Good rain forecast over Punjab, Haryana
New Delhi, September 21
There is some good news for rain-starved regions in plains of north India. The India Meteorological Department (IMD) has forecast that plains and mountainous regions of the northwest can expect some active rainfall spells on September 24, 25 and 26, which should be able to make up to a good extent for rainfall deficiency the region has been facing this season.



Videos
Suffering from 'ringxiety'.
(56k)
Monkey guard.
(56k)
Romancing the desert.
(56k)
Dhol & Manorama hit theatres.
(56k)