Story of reel children
From the 1950s Jagriti to the recent The Blue Umbrella, children have essayed significant roles in Hindi films, writes M.L. Dhawan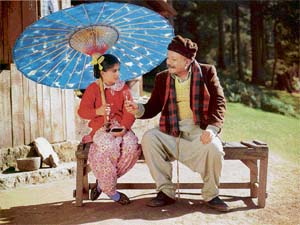 Shreya Sharma and Pankaj Kapoor in Vishal Bharadwaj's The Blue Umbrella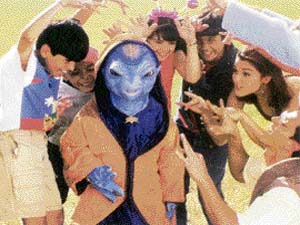 A still from Koi Mil Gaya
FOR movie buffs, stories from the world of children are fascinating. The most recent being Vishal Bharadwaj's The Blue Umbrella that won the National Award for the Best Children's Film category for 2005. The film is an adaptation of the novella of the same name by Ruskin Bond. The story opens with the discovery of a vibrant blue umbrella by 11-year-old girl Biniya (Shreya Sharma). Nandkishore (Pankaj Kapoor) plays a miserly old man who is smitten by the beauty of the umbrella. One day the umbrella goes missing. The story raises questions on the concept of material happiness and futility of the whole process.
Bharadwaj's earlier award-winning film Makdee is the story of identical twin sisters (played by Shweta) — Chunni and Munni (one naughty and the other na`EFve). Munni is turned into a hen by a wicked witch (Shabana Azmi) who demands 100 hens in return of the little girl. In a quandary, Chunni pretends to be both girls till she can get her sister out of the witch's den.
There have been many Hindi films which have focused on children's issues. Filmistan's Jagriti (1954) shows how a devoted teacher Abhi Bhattacharya controls a bunch of rowdy kids and instills a sense of discipline in them.
In Gulzar's Parichay, it was an understanding tutor Jeetendra who reforms a group of impish children who are at loggerheads with their grandfather (Pran). Amol Palekar's Kairee gave an insight into a child's (Yogeta Despande) perceptions of the vulgarities of the adult world. Her teacher's (Atul Kulkarni) statement that she was a Dalit and her mother an unlettered sweeper that is why her pronunciation and diction are faulty. This hurts the girl.
In Raj Kapoor's Bobby, Rishi Kapoor's parents packed him off to a boarding school and he was left to fend for himself. He grows up pining for his parents' love. In Sharaabi, Pran is a business tycoon who does not share a bond with his son Amitabh Bachchan who turns into an alcoholic.
In several films based on extra-marital relations, illegitimate children have to face life-long humiliation. In Shekhar Kapoor's Masoom, a well-ordered home is thrown asunder with the arrival of Naseeruddin Shah's illegitimate son. Shabana Azmi as his stepmother snubs every effort of the child to reach out to her.
In certain films, childhood trauma takes long to heal. In Shakti, young Amitabh hears his father, a police officer, telling his son's kidnappers to go ahead and kill his son, as he would not succumb to pressure. When the child overhears his father's remarks, the incident creates an indelible impression on his mind and he grows up hating his father.
In Trishul, Shanti (Waheeda Rehman) nurtures in son Vijay (Amitabh Bachchan) the seeds of revenge against his father J.K. Gupta (Sanjeev Kumar) for abandoning her while she was pregnant.
In Mission Kashmir, Altaf (Hrithik Roshan) witnesses his parents being shot by Sanjay Dutt's posse of policemen. He becomes a terrorist out for Sanjay Dutt's blood, though Sanjay had brought him up after his parents were done to death.
In Ardh Satya, Om Puri is never able to forget the beatings he had received from his father as a kid. When he becomes a police officer, he kills a criminal in custody. Films like Mr India, Hum Hain Rahi Pyar Ke, Kuch Kuch Hota Hai, Koi Mil Gaya and Krrish despite being mainstream films had children in main roles.
Chetan Anand's Aakhri Khat describes the adventures of two-year-old Master Bunty, who is lost in a big city. Kabuliwala portrayed the friendship between a Pathan (Balraj Sahni) and a five-year-old girl Mini. K.A. Abbas' Munna was the story of a little boy's search for his mother in the course of which he comes across many fanciful characters. Naunihal was the story of a little boy who runs away from home and falls in the hands of a gang that turns him into a beggar.
Addressing the problem of child labour, Boot Polish taught a street urchin — Rattan Kumar — the dignity of labour. His John chacha (David) turns him a shoeshine boy from a beggar. Rajshri's Dosti was about friendship of two young boys — one blind and other crippled who ceased to feel impaired in each other's company.
Mahesh Bhatt's Kash was a sensitive melodrama of an estranged couple — Jackie Shroff and Dimple Kapadia — who are fighting a legal battle for the custody of their only son. They bury the hatchet when they learn that their son was suffering from blood cancer. In death, the son brings them together.
Khalid Mahmood's Tehzeeb was the story of Rukhsana (Shabana Azmi) and her daughter Tehzeeb (Urmila Matondkar). As a mother Rukhsana had been very focused on her career and the daughter grows up feeling neglected and unloved. Karan Johar's Kuch Kuch Hota Hai has Shah Rukh Khan's eight-year-old daughter Anjali playing a matchmaker for her daddy.