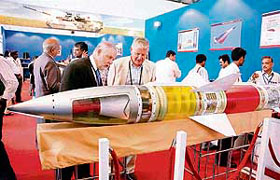 Delegates look at the model of the Indian Missile Prithvi at the International Space Expo set-up as a part of the 58th International Astronautical Congress 2007 in Hyderabad on Monday. — PTI
CPI national council from October 29
New Delhi, September 24
As the committee of UPA-Left parties is busy working out a face-saving formula on the Indo-US nuclear deal, the two main communist parties have called a meeting of their highest decision making bodies to take the final call before the informal October-end deadline for New Delhi to take the next step.
Quota for Muslims in AP
SC to see notification before granting stay
New Delhi, September 24
The Supreme Court, which initially indicated issuing an interim stay order today against the implementation of the Andhra Pradesh Government Act, providing 4 per cent reservation to Muslims under the backward class category, deferred the decision, as it sought to first see if any notification had been issued by the state to enforce the law by keeping creamy layer out of its ambit.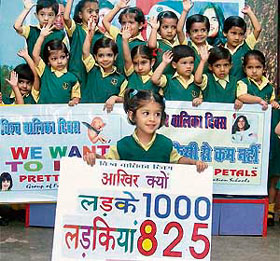 Children participate in a programme during the celebration of World Girl Child Day in Bhopal on Monday. — PTI
7 Punjab quota docs allowed admission against open seats
New Delhi, September 24
To ensure better use of government resources in the specialised medical education, the Supreme Court today permitted seven in-service doctors of Punjab from the reserved categories to be admitted for pursuing PG courses against the vacant seats of general categories.
Unnatural Deaths on Campus
IIT accused of suppressing information
Kanpur, September 24
The prestigious Indian Institute of Technology(IIT), Kanpur, is hushing up some dark secrets. It is allegedly suppressing information about unnatural deaths of at least two daily wagers and another child on the campus.
AICC Reshuffle
Jairam emerges clear winner
New Delhi, September 24
Beleagured culture minister Ambika Soni was shown the thumbs down when junior minister Jairam Ramesh, who created a stir recently by calling for Soni's resignation in connection with the Ram Setu controversy, was rewarded with plum assignments in the today's organisational reshuffle undertaken by party president Sonia Gandhi.
Rahul's appointment sign of dynastic rule: BJP
New Delhi, September 24
The BJP today called the appointment of Rahul Gandhi as Congress general secretary a sign of dynastic rule saying that it was least bothered.
Reddy to set new educational standards
Hyderabad, September 24
In a novel experiment to raise educational standards in rural areas, Andhra Pradesh government has joined hands with corporate sector to set up residential public schools with modern infrastructure and other facilities, each costing Rs 12 crores.
DMK claims tacit support from Sonia
Chennai, September 24
The DMK today claimed that it has the tacit support of Congress President Sonia Gandhi who following the reported 'fatwa' issued against Tamil Nadu Chief Minister M. Karunanidhi said all should unite to face threats from religious fundamentalists and not be cowed down.
BJP demands DMK govt's dismissal
Chennai, September 24
The BJP today demanded immediate dismissal of the DMK government in Tamil Nadu and a CBI inquiry into the attack on its state headquarters here yesterday by armed DMK workers.
Environment
India to attend global meet
New Delhi, September 24
An Indian delegation is leaving for the US to take part in a conference on reducing emission of greenhouse gases in the atmosphere.
Badal seeks NOCs for 3 airports
New Delhi, September 24
Punjab Chief Minister Parkash Singh Badal today called on union defence minister A.K Antony to seek no objection certificate (NOC) for three airports coming up in Punjab at Mohali, Sahnewal (Ludhiana) and Bhisiana (Bathinda).
Power Pangs
Nitish to meet PM
Patna, September 24
Bihar Chief Minister Nitish Kumar will meet the Prime Minister in the first week of October in Delhi over the state's power problems.
Flood victims loot fodder
Begusarai, September 24
Flood-hit victims at Salauna railway station in Bihar's Begusarai district allegedly looted a wagon laden with fodder, police sources said.
Punj is in charge of Punjab BJP
New Delhi, September 24
BJP president Rajnath Singh today appointed former Rajya Sabha MP Balbir Punj as the in charge of the Punjab state unit.
'92 riot victims have lost faith in admn'
New Delhi, September 24
The National Commission for Minorities (NCM), on its visit to Mumbai, has found that the 1992 riot victims and their relatives have lost faith in the administration.
Youth undergoes weight reduction surgery to win heart of girl
Chennai, September 24
A youth, weighing 150 kg, has undergone a risky weight reduction surgery in order to win the heart of a girl whom he has never met but continued romancing over phone.
3 militants nabbed in Manipur
Imphal, September 24
Assam Rifles (AR) troops have apprehended three militants of three different outfits in separate incidents in Manipur.



Videos
Hindu radicals hold a demonstration in MP.
(56k)
Train fire.
(56k)
Traffic granny.
(56k)
Om Shanti Om ready for full downloads.
(56k)