High BP a major threat to elders' health
Dr (Brig) M.L. Kataria
Senior Citizen (SC): Doctor, you often warn us to take care of our blood pressure (BP), but what is meant by BP? What is normal BP? And what is high BP?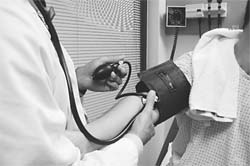 Doctor (Doc): The heart contracts and dilates an average 72 times a minute to pump out blood oxygenated by the lungs to all parts of the body through a network of arteries and capillaries, and sucks in utilised and deoxygenated blood from all parts of the body through enormous venous channels to pump it to the lungs for re-oxygenation. This process of cardiac contraction and dilation, expressed in terms of Systolic and Diastolic measured against a column if Mercury (Hg), is 120/80 millimetres of Mercury, as per WHO average norms, with a clinically acceptable range up to 140/90 mm of Hg. Any measurements above these figures should be termed as high BP.
SC: Within this normal range, can there be day-to-day variations in a person?
Doc: Yes. There are diurnal variations within this normal range. Our body has its own regulatory mechanisms which control and regulate BP as per needs of the body during the day and night.
SC: How does the age-old formula of 100+½ Age for BP compare with averages quoted by you?
Doc: The averages for BP given by the WHO are based on world-wide multi-factorial studies. These averages also compare well with Framington Studies which extended over a few decades. The "100+½ Age" formula is not a good guide for senior citizens. In our own Geriatric Health Care Centres, more than 80 per cent of senior citizens who lived above 90 years and average BP of 110/70 mm Hg.
SC: Why is high BP termed as "Enemy No. 1" for senior citizens?
Doc: A perpetual high BP is a silent killer. Over a period of time, it slowly and silently keeps damaging the vital organs like the heart itself, the kidneys and the brain and, in due course, may explode as a time bomb, resulting in a stroke, heart attack, kidney failure, sudden loss of vision in one or both eyes, in addition to day-to-day unattended ailments like heavy head, inability to concentrate, gradual loss of memory, fatigue without a cause, sleepless nights, pain in the legs, swollen feet and ankles, puffy face and many more.
SC: What is the cause of high BP?
Doc: There are known and unknown factors which lead to a high BP. It may be a consequence to heart, lung, liver and kidney disease; in fact, any obstructive pathology in vascular pathways. A high BP is nature's own attempt to force its way through that obstacle. But, unfortunately, a vicious circle sets in whereby the vital organ with obstruction leads to a high BP, which, in turn, damages the organ. On the other hand, an inherent unknown cause may also cause a high BP, erroneously termed as essential or primary hypertension, also related to psychogenic and genetic factors.
SC: Doc, just for general knowledge, how do you go about defusing this time bomb called high BP?
Doc: The sufferer or the time bomb target is the best guide for the physician to diffuse it. Any symptomatology, however trivial, relating to any function of the body, may be only the tip of the iceberg. Therefore, do not continue to live with it and report it to the physician. He will investigate and treat the inherent cause, besides merely controlling the high BP.
It should be a matter of general knowledge that drugs used to control high BP fall under four categories — beta-blockers, calcium channel blockers, angiotensin converting enzyme inhibitors and diuretics. While the choice of one or more drugs as a combination is the physician's concern, the patient must not only know the name and content of the drug but also its dosage time and frequency of intake. The regime must be reviewed periodically and regularly. A plethora of drugs has come into the market as over-the-counter drugs. One should not resort to self-prescription. It is not uncommon to see customers at a chemist's shop asking to check BP and prescribing a medicine.
SC: Doc, how can we keep this menace of high BP at bay?
Doc: Prevention is better than cure. In a nutshell, regulate your lifestyle meticulously. Eat and drink with discrimination; a low-fat and low-salt diet. A regular exercise and calculated calorific intake should ensure an optimum weight. Obesity invites high BP. Diabetics are prone to high BP.
A biannual blood test to monitor blood sugar and cholesterol levels and kidney function are essential to nip the evil in the bud. High cholesterol levels choke the blood vessels and tend to raise BP.
A positive middle path way of life with an equitable mental reactions to pains and pleasures of life go a long way to leash the BP from a gallop.
The writer, a retired Brigadier, is a pioneer in geriatric health care and has established several free health care centres for senior citizens in the region.