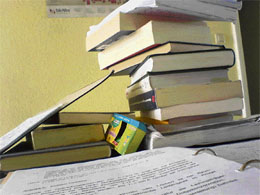 CAT CALL
It's about working smart, not just hard
Prateek Sethi
Cracking CAT can be a cakewalk if these tips shared by IIM students are borne in mind. So, check out this catalogue of strategies.
CAT — A three-letter word that catches the fancy of most of the students in the midst of their graduation. While some of us have a definite reason to jump on to the bandwagon, others just follow out of herd mentality. Better job prospects and mind-boggling salaries seem to be the most important reasons that make people prepare for CAT.

Practice makes perfect
Sudarshan Karanth
Reams have been written about the competitive nature of CAT. With less than the top three percentile clearing the elimination round, this is as exclusive as it gets. However, the questions asked do not require an in-depth knowledge of any particular undergraduate field, which is partly the cause for the lure of the exam in the first place. Logic, time management skills, language skills and data interpretation abilities are

Careercature
Sandeep Joshi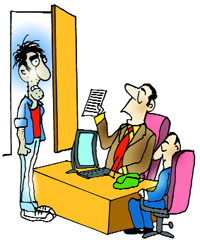 Your qualifications are fine, but can you please delete the word 'handsome' from your resume?

Naukri @IIM-B
It is boom time for students of the Indian Institute of Management, Bangalore this year, with a record 70 Pre-Placement Offers (PPOs) having been made for a batch of 250 students. The offers, the highest across all IIMs in the country, come at a time when the final campus placement, which usually takes place in March, is still six months away, according to IIM-B Placement Committee sources.

Placements take off
Companies sign up IAF pilots and engineers
In the backdrop of a boom in India's aviation sector, major companies flocked to the first ever placement fair organised by Indian Air Force for signing up pilots, aeronautical engineers, navigators and traffic controllers.

Bits & bytes
Think3 to increase India headcount to 200
Italy-based computer-aided design firm, think3, is planning to increase its headcount in the country by about two-fold to over 200 by next year. "We will increase our presence here to over 200 people in the next one year from currently 120 " think3 Director (International Sales) Tom Davis said recently. The company would also set up a customer support centre in Pune in the next couple of months with an initial employee strength of 30-40 professionals, he said.

Smart Skills
Changing track
Usha Albuquerque
Sangita is an MD in gynaecology and obstetrics with seven years of experience. She has a flourishing practice, earning more than Rs 1 lakh per month. But the pressures of the job, the emergency calls, and balancing the needs of a young child at home and domestic obligations with the demands of work has made Sangita think about a change of career.