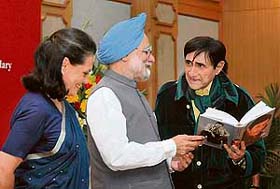 Prime Minister Manmohan Singh is watched by Congress President Sonia Gandhi as he shares a light moment with actor Dev Anand during the launch of Anand's autobiography in New Delhi on Wednesday. — AFP


In video (56k)
Leaders greet PM on his birthday
New Delhi, September 26
President Pratibha Patil, Vice-President Hamid Ansari, Speaker of the Lok Sabha Somnath Chatterjee and UPA chairperson Sonia Gandhi greeted Prime Minister Manmohan Singh on his birthday today.
Lalu lashes out at opponents
Patna, September 26
Union railways minister and RJD supremo Lalu Prasad charged his opponents with repeated attempts to implicate him in false cases.
Ram Setu BJP wants alignment right
New Delhi, September 26
The BJP has said it was in favour of the Sethusamudaram project if its "alignment" was corrected to save the Ram Setu. "The BJP's concern is the alignment of the project and the safety of the Ram Setu. We are not opposed to the Sethusamudram project", party's senior leader M. Venkaiah Naidu said here yesterday.
Army for VDCs in Assam
Guwahati, September 26
The Army today advocated for arming villagers in remote parts of Assam on the line of village defence committees (VDCs) in Jammu and Kashmir to protect themselves against terrorists belonging to the banned ULFA and other outfits.
Gowdas launch own TV channel
Bangalore, September 26
Karnataka's ruling family, the Deve Gowda clan, today became the first political family in the State to have a television channel of its own with the launch of a Kannada channel called Kasturi.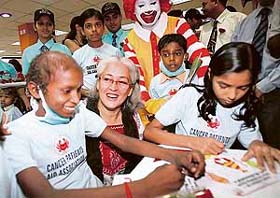 Former Miss India and actress-turned social worker Nafisa Ali (centre) meets child cancer patients during Rose Day celebrations at a fast food restaurant in New Delhi on Wednesday.
— AFP
WB okays $200-m loan to Himachal
New Delhi, September 26
The World Bank has approved $200 million loan to Himachal Pradesh to support the implementation of critical structural, fiscal and administrative reforms needed to boost economic growth and inclusive development, while sustaining the environmental heritage of the state.
Rare, legendary jewels on display
New Delhi, September 26
World-renowned jewels like the 184.75-carat Jacob Diamond and one-of-its-kind-in-the-world seven-string pearl satlada haar is among the 173 fabulous and legendary pieces of exquisite jewels that go on display for public at the National Museum from tomorrow.
Ex-UP chief secy remanded in CBI custody
New Delhi, September 26
A special court today remanded former Uttar Pradesh chief secretary Akhand Pratap Singh, who was arrested yesterday in connection with a disproportionate assets case, to 12 days CBI custody.
Amar Singh in dock
Lucknow, September 26
Samajwadi Party leader Amar Singh was in the dock after an official probe today recommended criminal action against him and 27 others, holding that the allotment of plots to them in a posh area here during Mulayam Singh Yadav government's rule was "irregular and illegal."
Now, birth certificate within 24 hrs
Chennai, September 26
For the first time in India, the Chennai City Corporation today launched a unique programme of issuing birth certificates within 24 hours of the birth of a baby. The hospital will be equipped with a computer.
8 schoolgirls 'kidnapped'
Kurnool, September 26
Unknown persons have allegedly kidnapped eight schoolgirls from the Nandikotkur town of this district today. Superintendent of Police (SP) B Malla Reddy told UNI that based on a complaint from two students who claimed to have escaped from their captors.



Videos
Sack DMK Ministers: Rajnath
(56k)
Esha in Bhatt Camp.
(56k)
Car accessories market booming.
(56k)
Homeopathic medicines for crops.
(56k)
Learning to handle snakes.
(56k)