BJP moves closer to talks with Gowda
Bangalore, September 28
The BJP today moved a step closer to resuming talks with former Prime Minister H D Deve Gowda and his JD (S) by getting its tourism minister B Sriramulu to "clarify" that he had not charged Chief Minister H D Kumarswamy of attempting to murder him.
Rural job guarantee extended to entire country
New Delhi, September 28
Two days after Congress MP Rahul Gandhi urged Prime Minister Manmohan Singh to extend the National Rural Employment Guarantee Act (NREGA) to the entire country, the government today announced the extension of the ambitious programme to all districts of the nation.
Cases Against Children
Panel seeks data from states
New Delhi, September 28
The National Commission for Protection of Child Rights (NCPCR) has asked all states for the exact number of cases of children in conflict with law (CCL) pending with Juvenile Justice Boards (JJBs), and data of those who have been incarcerated in juvenile justice homes or undergoing trial proceedings for more than three years.
Corruption Case
Bhattal withdraws plea from SC
New Delhi, September 28
After the trial judge had taken on record the receipts on the spending of Rs 20 lakh by Punjab Congress president Rajinder Kaur Bhattal from the CM's relief fund when she headed the state government in 1996, Bhattal today withdrew her petition from the Supreme Court challenging her prosecution on the question of improper sanction.
Congress bracing up for early poll
New Delhi, September 28
With the UPA government not inclined to shelve the Indo-US nuclear deal under pressure from the Left parties, the Congress has begun to gradually prepare for an early Lok Sabha polls.
'Idol' clash: Army called in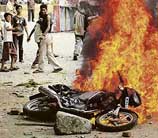 Prashant appeals for peace in Siliguri
Kolkata, September 28
"Indian Idol" Prashant Tamant today appealed for peace in Siliguri after violence and arson rocked this commercial town, where curfew was imposed and the Army was called in.
A motorcycle set afire by a mob angered over remarks by an RJ about Indian Idol winner Prashant Tamang in Siliguri on Friday. — PTI photo


CBI closes case against Jagdish Tytler
New Delhi, September 28


The CBI today closed a 1984 anti-Sikh riot case against senior Congress leader and former Union Minister Jagdish Tytler saying it was unable to find witnesses to support its charges against him. The probe agency, in its closure report filed before a court here, is understood to have said that many of the witnesses in the case were either dead or did not want to testify. The closure report also included the name of late Congress MP Dharam Das Shastri. Meanwhile, the agency filed a charge sheet in one of the related cases in which Suresh Kumar was accused of inciting a mob against the Sikhs. — PTI
Vigilante Justice
One more lynched in Bihar
Gopalganj (Bihar), September 28
Yet another man today became the victim of 'vigilante justice' in the state, when he was beaten to death by angry villagers here for allegedly entering a house to steal.
It's unsafe to convict on mere dying declaration: SC
New Delhi, September 28
The Supreme Court has cautioned that it is unsafe to convict a person on the basis of a dying declaration alone, where suspicion is raised as regards the veracity of the deceased's statement.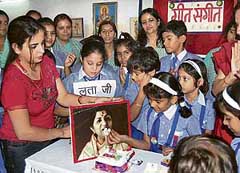 HAPPY BIRTHDAY TO LATA: Music students celebrate the birthday of
Lata Mangeshkar in Bikaner on Friday.
— PTI photo


In video (56k)

Steps to protect Victoria Memorial
Kolkata, September 28
Calcutta High Court today ordered immediate shifting of the city's main bus terminal from the maidan vicinity for protecting the beauty and sanctity of the historic Victoria Memorial against pollution and other environment hazards. The government, however, was given six months time for making an alternative bus terminal elsewhere.
Student procession lathicharged
Patna, September 28
Over a dozen students and youth were injured after the police resorted to lathicharge to disperse the activists of All India Students Federation (AISF) and All India Youth Federation (AIYF), both affiliated to CPM, at R block today.
Court stays order against HIV+ woman
Jaipur, September 28
The session's court here on Friday stayed the order of a lower court that denied HIV positive woman custody of her minor daughter.
'Infiltration is at lowest level in Kashmir'
New Delhi, September 28
Outgoing Chief of Army Staff General J.J. Singh today said that infiltration and militancy levels in the disturbed state of Jammu and Kashmir and that of the North-east have been brought down to minimum levels.



Videos
Floriculture boosts employment.
(56k)
Chinese love story through Kathakali.
(56k)
Shilpa the coolest one.
(56k)
Judgement day for 2 new faces.
(56k)