COLUMNS



THIS ABOVE ALL

TELEVISTA

GOOD MOTORING

AUDIO SCAN

MUSIC ZONE

WEBSIDE HUMOUR

FOR CHILDREN



CROSSWORD

RHYME TIME

ROOTS
Pitch perfect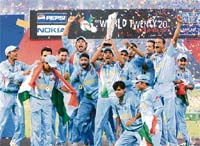 Indian cricketers proved their mettle many times over in the Twenty20 World Cup. Now, with so much international cricket scheduled for the coming months, it will be hunger for greater glory that will drive Dhoni and his squad, writes Abhijit Chatterjee
Mahendra Singh Dhoni did not carry the burden of history on his shoulders when he led India in the inaugural Twenty20 World Cup in South Africa. This was evident when, in his post-match press conference after leading India to victory, he admitted with a wry smile that he did not remember anything of the 1983 World Cup win since he was only two years old then.
Young India on a roll
Prabhjot Singh
India never had it that big. Three international crowns in two months, and all in the ball games, besides some startling individual performances in tennis, badminton and shooting. After Baichung Bhutia and his men came from behind to shock fancied Syria by a solitary goal in the final of the Jawaharlal Gold Cup Football Tournament a few weeks ago, many had written India off in hockey before this month's Asia Cup championship in Chennai.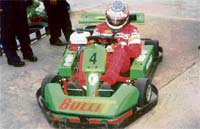 On the fast lane to go-karting
This sport is catching on in the country ever since Narain Karthikeyan hit the high road of Formula One racing, says Nutan Sehgal
For those obsessed with speed and dream of fast cars, India offers a big motor sport opportunity — go-karting a sport that re-creates nerve-wrecking non-stop karting action. Right from their steering system to powerful brakes to Briggs & Stratton Vanguard engines, these electronically operated cars are guaranteed to provide the thrills and spills of Formula One racing.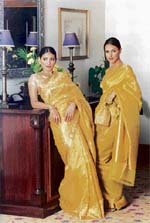 Saree creates new waves
Just when fashion aficionados predicted the decline of the saree, it has bounced back with many variations to make a designer statement, observes Anju Munshi
Have you ever stood before your wardrobe dithering in two minds and trying to grapple for an answer to that very  tough question: 'What should I wear to look at my best?' And then, have you heard someone whisper into your ears from between the rustle of your clothes, 'I have withstood  the  test of  time. Why not take me ?' It's your saree that beckons you. Team up with a halter or a backless choli and you are bound to turn heads at a meet, be it a cocktail party or a wedding.