M A I N N E W S
Prez Poll
Mush papers accepted
Afzal Khan writes from Islamabad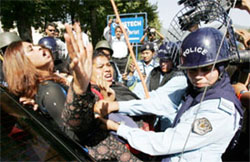 Pakistani policewomen arrest opposition party activists during a march towards the Election Commission's office in Islamabad on Saturday. The Pakistani police used batons and teargas to disperse hundreds of lawyers protesting against President Pervez Musharraf's candidacy in next week's presidential election. — AFP
President Pervez Musharraf crossed last hurdle on Saturday in his election slated for October when the Chief Election Commissioner (CEC), Farooq Qazi, accepted his nomination papers after rejecting all objections raised by the lawyers of two leading rival candidates, Makhdoom Amin Fahim and retired Justice Wajeehuddin Ahmed.
Both candidates have said they would revert to the Supreme Court on Monday against CEC's order. However, unless the court stays the election, Musharraf is poised to be elected President for another five-year term in October. The Supreme Court, on Friday, had dismissed all petitions filed to challenge General Musharraf's eligibility to contest election on technical ground terming them as non-maintainable.
Qazi passed a brief order after hearing arguments against the legitimacy of General Musharraf's candidature and rebuttal by Waseem Sajjad, who represented the President.
Earlier, he accepted nominations of Makhdoom Amin Fahim and Justice Ahmed, besides the papers of two cover candidates of President Musharraf chairman Senate MohammadMian Soomro and speaker National Assembly Chaudhry Ami Hussain. Nominations of 15 others were rejected for want of appropriate proposers and seconders.
The CEC apparently relied on Wasim Sajjad's contention that Musharraf's uniform would be no problem after his election as he has pledged to doff it soon after and before taking fresh oath on November 16, when his present term expires.
Hamed Khan and Babar Awan, advocates for rival candidates, argued that under the Constitution Musharraf is barred from contesting election as Army Chief.
It was further contended that President Musharraf had backed out of a promise made in 2003 that he would doff his uniform within a year and failed to file any statement of assets and liabilities in accordance with the law.
The lawyers of Fahim and Justice Ahmed staged a walkout from the CEC office after concluding their arguments when Qazi declined their request to stop the police violence on journalists and lawyers outside his office.
Hamed Khan argued that the CEC, like his counterpart in India, has full authority because under the Constitution all state institutions have to be brought under his control with the start of election process.
'No value of Mush's statement in SC'
In a sensational statement federal minister Sher Afgan, on Saturday, said the statement filed on behalf of President General Musharraf in the Supreme Court on quitting army office has no legal value after dismissal of petitions challenging his eligibility to seek second term.
"The court rejected all objections against President Musharraf's candidature," Afgan told reporters here.
PPP to challenge nomination
Former Prime Minister Benazir Bhutto's Pakistan People's Party (PPP) today said it will challenge in the Supreme Court the approval of President Pervez Musharraf's nomination by the Election Commission (EC) for the October 6 Presidential poll.

Minister thrashed by mob
Afzal Khan writes from Islamabad
A federal minister was beaten up severely and Prime Minister Shaukat Aziz was holed up for nearly an hour in the office of the Election Commission to avoid angry lawyers and journalists protesting against brutal violence on their colleagues.
Enraged journalists dragged state minister for information Tariq Azim out of an ambulance while he was trying to sneak out of the EC office. Information minister Durrani, however, succeeded to escape in a similar fashion.
Prime Minister Aziz had come to the EC office to watch the scrutiny process along with several ministers and ruling party leaders. As he emerged from the EC office, he had to wait for nearly an hour before the security agents could clear the gate and the road to the nearby Prime Minister house of enraged journalists who had blocked the passage.
Earlier, hundreds of lawyers clashed with heavy deployment of riot police, paramilitary troops and anti-terrorist commandos outside the Supreme Court and Election Commission's office when they tried to run through barricades to reach the EC office on the Constitution Avenue which houses key government buildings and the Parliament House.
Several lawyers and journalists were injured during brute use of force by authorities.
The lawyers had called for a demonstration on the Constitution Avenue here to protest on the day of scrutiny of nomination papers of Gen Pervez Musharraf on Saturday. A large number of them broke through stringent security cordon and barricades on the boulevard and gathered inside the Supreme Court premises located close to Election Commission's building across the road.
Plain clothed security agents lobbed gas shells inside the SC building as well.
Civil society activists, academics and writers, including renowned poet Ahmed Faraz and human rights leaders Asma Jehangir, also joined the lawyers in protest against General Musharraf's candidature. They shouted slogans against military dictatorship and called for restoration of democracy and rule of law.
The police resorted to severe baton charge, teargas shelling and even threw stones on the crowd every time the lawyers tried to run through barbed barricades. Some leading lawyers like Chaudhry Aitzaz Ahsan and Ali Ahmed Kurd were also wounded. Kurd was particularly targeted early on and was badly wounded in severe thrashing by baton-wielding policemen.
Several others were rushed to hospital while profusely bleeding. Outside the neighbouring Parliament Lodges, the police beat political workers and arrested several persons, including two MPs, while blocking them from entering the avenue.
Authorities also prevented mediapersons from covering the violence. They snatched cameras and other equipment and used baton charge and tear gas wounding several of them. The journalists later demonstrated outside the Election Commission's office to protest against excessive use of force. Chief of police Marwat justified the action saying lawyers and journalists were obstructing Prime Minister's cavalcade and endangered his security.
The government also switched off four major TV channels - Dawn News, Aaj, Geo and ARY - prevent them from broadcasting the violent scenes. Police personnel were sent to cable stations from where the channels were also shuffled to confuse the viewers. Information minister Durrani regretted the incident and promised an inquiry.
Journalist organisations called for protest rallies against police excesses on Sunday across the country. Reports from other towns said police also used clashed with newsmen in Karachi, Lahore and Peshawar during demonstration on Saturday in protest against manhandling of media men in Islamabad.