Sher Jung: Forgotten hero
There is no memorial to Sher Jung, a freedom fighter from Himachal Pradesh, even in his home state, writes Shakti Singh Chandel

Nehru inspecting Colonel Sher Jung's unit in 1948. Sher Jung is in uniform to the right of the Prime Minister
Mahatma Gandhi's withdrawal of the Non-cooperation Movement following the Chauri Chaura incident created discontent. Many did not agree with him that wrong means would not lead to right results. For them, it was the goal that mattered.
It was at this stage that the 'action' of the Ahmedgarh (in Punjab) train robbery took place in 1928. It administered a rude shock to the government and created countrywide sensation. The robbery was organised by 24-year- old Sher Jung of the princely state of Sirmaur. It was a major political action after the assassination of J. P. Saunders and the Delhi bombing case in which Bhagat Singh and Batukeshwar Dutt were involved.
Sher Jung was tried and found guilty of sedition, of waging a war against the King-Emperor, and sentenced to death. The sentence, however, was later commuted to life sentence. In 1930, he was put in the same ward of Central Jail in Lahore as that of Bhagat Singh and Batukeshwar Dutt.
Sher Jung was born on November 27, 1904. His father, Chaudhary Partap Singh, was Collector in Sirmaur.
Being rebellious, Sher Jung refused to accept the reprimand of his teacher while he was in Class IV and left school. He became a wanderer in jungles of the Shivalik hills. He loved nature, reading and writing. His father was a scholar of Persian and Urdu, and Sher Jung learnt these languages from him. Later in jail, he learnt German, Hindi and Bengali. He spent his childhood on a farm with his French tutor, who was inspired by the French Revolution and infused in his young pupil the spirit of freedom.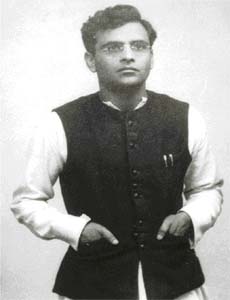 A 1947 file photo of Sher Jung. The freedom fighter was bestowed the rank of colonel by Jawaharlal Nehru after he raised the Kashmir National Militia and fought Pak raiders
Sher Jung's rebelliousness posed problems for his parents. He was sent to Lahore where his sister lived with her husband, Prof Udayvir Singh Shastri. The latter's hospitality and love for revolutionary students was proverbial. His home was a rendezvous for Sardar Bhagat Singh and other freedom fighters. Sher Jung became a member of the Hindostan Socialist Republican Association and soon his shooting skills and patriotism attracted the attention of Bhagat Singh. To awaken the masses and shake up the British administration, the task of conducting the Ahmedgarh train robbery was assigned to Sher Jung. The robbery was also committed because the revolutionaries needed arms and ammunition. After Sher Jung had accomplished the task with consummate skill, he disappeared into the Shivalik jungles.
The entire might of the British was put to arrest Sher Jung. A reward of Rs 30,000 was offered to anyone who could capture him 'dead or alive'. In a number of encounters, Sher Jung put up a brave fight and each time succeeded in eluding the police. When he read the public notice of the award, he decided to surrender. He felt his party could do with the money.
"When I joined college in Lahore, the youth would sing songs of Sher Jung's bravery," wrote former Prime Minister Inder Kumar Gujral in a preface to a book on Sher Jung. Rana Jang Bahadur, Editor of The Tribune in the 1930s, sympathised with the freedom fighters. He was secretly in touch with Sher Jung in jail. In 1936, he detailed a college student, Nirmala Devi, as correspondent of the paper to interview Sher Jung. The young woman, immersed in revolutionary fervour, became an admirer of the prisoner. In 1938, when Sher Jung was set free from jail, they got married within a week.
After marriage Sher Jung and his wife left for Sirmaur. He toured the state and set up Praja Mandal units there for the first time. In Dehra Dun, he undertook the editorship of Chingari, an Urdu magazine. When World War II broke out, all national leaders were put behind bars. Sher Jung was also arrested and remained in jail until 1944. Even after his release, the government kept his movement confined to the Civil Lines, Delhi, till 1947.
After Independence, Sher Jung was given charge of managing refugee camps in Delhi. He was responsible for three camps set up for refugees from Pakistan. He also set up two more camps for those Muslims who wanted to migrate to Pakistan. When the Mujahideen raided Kashmir in 1947, he rushed to Srinagar. There he raised and commanded a force of volunteers called Kashmir National Militia. Along with the Indian Army, Sher Jung fought against the raiders. When Jawaharlal Nehru visited his unit in Srinagar, he was surprised to see Sher Jung's military acumen and immediately bestowed on him the rank of colonel.
From 1953 to 1958, he led guerrilla units in Goa against the Portuguese. For three years, he trained the Muktivahini in Bengal and withdrew only after the Army took over the operation in 1971. Sher Jung also set up a rifle shooting club in Delhi, a nursery for future shooters.
Besides his military acumen, Sher Jung was a poet who loved nature intensely. His books, Tryst with Tigers, Ramblings in Tiger Land, Ek aur Anek Kshan (poems), Gunlore, Prison Days are a testimony to his literary skill. His Orake Parina (1935), a novel in Urdu, and Lorja (1937), an anthology of Hindi poems, were published when he was still in jail.
Sher Jung passed away in Delhi on December 15, 1996. He is not known even in his state, Himachal Pradesh. It is time to raise a memorial to this legend during the 150th anniversary of our First War of Independence, and the year of the birth centenary of his comrade, Bhagat Singh.