Party Predicament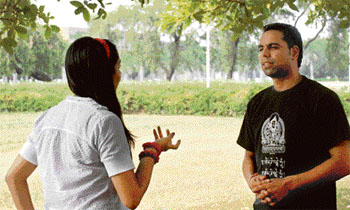 As so many working wives are tying the knot with flashy corporate lifestyle, the husbands are parting ways with the feeling of security. If it was 'more-than-my-income' syndrome that was often forcing them to act like emotional misers till now, all those late night corporate parties, necessitating the presence of their spouses, are leaving them 'all the more bothered and discouraged'.



This time of the year may not be propitious for you to religiously indulge in shopping, but it sure is profitable!


Gainful Times
With the commencement of shradhs, not just the car dealers, even the lingerie and jewellery stores in the city have come up with special attractions. You may not know it, but the inside story is that the lingerie stores have launched limited-period scheme. Avail it and you get money-off, along with scratch coupons, promising up to 100 per cent discount on your subsequent purchases. This is not all. Go to the arcades garlanded with marigolds and other chuckling flowers commemorating the otherwise festive season.

In Glittering Company
With the approaching wedding season around the corner, Tanishq has joined the celebrations bandwagon and ensures you actually grab some glittering gold and more. On Saturday, the jewellery store announced a special pre-booking offer, valid from October 1 to October 15. In this scheme, customers can pay 25 per cent advance and block gold rates. With the ever-rising price of gold, this will be an advantage, if the price increases during Navratras.
As you sow, so shall you reap... Summer is on its way out and it's time to pay attention to the green patch. Plan, plant and enjoy!
Blooming Business
Drive down the narrow lanes cutting through the sectors and you will come across palatial houses and bungalows with impressive backyards converted into plant-sale outlets, offering almost everything you need to deck up your garden — right from cobbled mountain stones for landscaping to flowers, evergreens and potted shrubbery.


Plant nurseries are growing in city's residential areas like never before
Flower Power
Hey garden lovers, here is the time of the year you've been waiting for. The seed-sowing season is in. September to October is the right time to sow the winter annuals and the city nurseries are all geared up with a large variety of flowers.
Dress up your greens
Do you stare at your garden and feel sad that it's not shaping up as you wanted it to? Maybe your prized possession needs a makeover. The need of the hour is not additional trips to the nursery, but some creativity.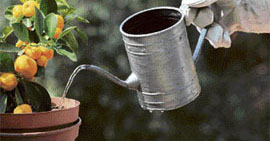 Ready to place
Does flipping through interior magazines featuring well-manicured gardens make you wish for a green home, but staying in a flat with a not-so-big balcony comes in your way? Well, fret not, for you can make your dream of a green home come true by adorning your home with potted plants.
First Day First Show
Johnny Gaddar: A twister well captured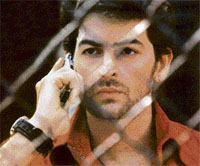 Pulp fiction can also be turned into pulsating cinema. Director Sriram Raghavan of Johnny Gaddar proves it. He restricts his vocabulary of filmmaking to one word — twists and turns — and converts a predictable tale of five criminals into a slick entertainer. There is nothing new in the story. A motley group of five gangsters, Seshadhri (Dharmendra), Prakash (Vinay Pathak), Shardul (Zakir Hussain), Daya (Shiva) and Vikram (Neil Nitin Mukesh), have to clinch a shady deal in four days to become stinking rich.

Reality Check
Reality shows are here to stay, for good or bad. And then they never fail to surprise us, be it for sobbing tales, emotional melodrama, staged walkouts by the judges or love blooming between contestants. The latest in the surprise package is celeb guests, star contestants and the participants' visit, well not to orphanages and old- age homes, but to the Parliament House.

Smart one-liners
Robert DeNiro's line 'Are you talkin' to Me?' in Taxi Driver has topped a new list of one-liners compiled by Brigham's Ice Cream Co. The famous line was followed by 'Go ahead. Make my day' from Dirty Harry and 'Here's lookin' at you, kid,' from Casablanca at second and third spots respectively, according to the survey.

Write to Renee
I am an 18-year-old girl ready to finish college and move on to university. I have managed a scholarship in a good university in England. My mother does not want me to go. She says I should first get married. I feel my mother is jealous as she was never allowed to have her way neither in her parents home nor in her in-laws house. I feel she is taking it all out on me. How should I deal with the situation?

Matka chowk
High on high beam
The Tribune reported that Chandigarh Traffic Police has launched a week-long drive to check violation of driving vehicles on full beams. Checkpoints would be set up across the city in the evenings to catch high beam offenders.

Part of our lives not very long ago, these are now found only on the collector's list


Memories of yesteryears
'Wanted young girls with good typing speed for the front office', reads an advertisement in a local newspaper's weekly 'situations vacant' column. Did it say typing? Yes, it very much did. The ad was posted just a few weeks ago.

Give Me Red
A health film aims to dispel all myths & fears shrouding blood donation
It's called Red. It revolves around a girl called Guddu, who meets with an accident and how society saves her life. Shot in the city, what makes this edutainment lesson of donating blood different, is that the 30-minute health film is sans celebrity endorsements and interviews of blood bank officials. It's about you and me. And, it targets the fears and inhibitions that an individual has about blood donation.

Health Peg
Alcohol induces cancer
A new medical study has found that there is no difference in the risk of developing breast cancer between wine, beer or spirits, since it is the consumption of alcohol itself and the quantity that triggers the cancer.