M A I N N E W S
Bumpy ride for first truck to Pakistan
Porters protest on both sides of border
Varinder Walia
Tribune News Service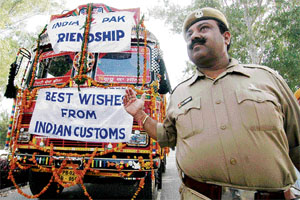 A Customs official escorts the first truck to Pakistan via the Indo-Pak border at Attari on Monday. — AFP
Attari, October 1
The historic event of the first Indian truck, loaded with fresh tomatoes, crossing the Radcliff Line for the first time since Independence today, was marred by strong protests by porters on both sides of the border.
After the flagging-off ceremony at zero line by Chief Minister Parkash Singh Badal, agitating Indian porters resorted to stone pelting, smashing windowpanes of 15 trucks, awaiting Custom clearance outside the Attari checkpost, forcing the drivers to take their vehicles to safer places. The development is seen as a serious setback to the efforts of exporters of both countries who were expecting a great boom in exports. Peeved at the stone pelting, the exporters later sought protection from the government for the safe passage of goods. They alleged that the drivers of the trucks had a narrow escape during the attack. Deputy commissioner Kahan Singh Pannu and district police officer Kunwar Vijay Partap Singh said at least 25 miscreants had been identified. They assured full protection to the exporters and uninterrupted passage of trucks between the Attari and Wagah joint checkpost.
Certain senior officials alleged that there was a deep-rooted conspiracy to defame the local administration by engineering such troubles. Interestingly, the trouble started when the police had left the venue after the flagging-off ceremony.
Earlier, the Chief Minister had assured that licences of porters would not be cancelled.
Dispelling doubts in the minds of porters at Attari border, Bikram Singh Majithia, information and public relations minister, assured that the trade with Pakistan via trucks would not hit their livelihood. Terming their doubts as baseless, Majithia said trade through trucks would rather boost the economic activity at Attari border thereby increasing their income.
A lone Indian truck with a Customs permit went up to the Customs terminal on the Pakistani side of the checkpost. After offloading tomatoes the truck returned to India. However, no truck from Pakistan crossed over to India. Three Pakistani trucks carrying dry fruit from Afghanistan were to cross the zero line into India, but the vehicles had not yet reported on the other side of the checkpost.
The movement of trucks is part of the bilateral trade agreement signed recently between the two countries. Earlier, after flagging off the truck at Attari, Badal demanded the setting up of visa offices at Amritsar and Lahore.
The Chief Minister accompanied by Sukhbir Badal and Navjot Singh Sidhu, also advocated the opening of Hussaniwala and Khemkaran borders to boost the overall development and progress of the state.
To a question, Badal informed that an integrated checkpost near Attari border would be set up within two years.
Earlier, trade shipments even for Lahore had to be routed through Mumbai to Karachi, placing the Punjabi entrepreneurs at a disadvantage.

Govt's big-event jitters
Sarbjit Dhaliwal
Tribune News Service
Chandigarh, October 1
There appears to be something wrong with the Punjab Government as far as handling of big events is concerned. Whenever an important event takes place, it is either marred by violence or by poor management by state government authorities concerned.
Take two latest instances. First, lot of bad blood was created during the Shaheed Bhagat Singh centenary celebrations at Amritsar four days ago. Mindless lathi-charge on farmers spoiled which was otherwise the most important occasion in the history of the state. Today again, it was violence that dominated proceedings at the Indo-Pak border at Attari that was opened for the movement of trucks across the border. Large number of porters at the border resorted to violence, fearing that they would become jobless in the bargain.
Both incidents could have been avoided if the state government had taken adequate steps to tackle such situations. Farmers should have been asked to pay tributes to martyrs at the Jallianwala Bagh without any hindrance. Martyrs belong to all. And porters, who have been working on the border for years, should have been told that their apprehension of becoming jobless is completely misplaced. Opening of the border for trucks will not only provide better job opportunities to them but also lakhs of other people in this part of the country.
"Obviously the movement of trucks carrying goods across the Indo-Pak border at Attari turning into a reality today is a most significant day since 1947 in the history of Punjab as well as the country," says R. S. Ghuman, an eminent economist, who has done M.Phil on Indo-Pak trade and has been a member of various trade delegations which visited Pakistan for improving trade ties.
Punjab has been awaiting for this day for decades. Prime Minister Dr Manmohan Singh, who had promised to open the border for big trade, has kept his word. Not only Punjab but Haryana, Himachal Pradesh, Delhi and certain parts of Rajasthan would also be benefited due to opening of the border for trade.
" Today's event will bring a big turn around in this region's economy," asserts Ghuman. "In fact, it is opening of the gates of fortune for Punjab which faced several adverse situations during the past several decades," he said. Moreover, trade will ensure lasting peace between the two countries.
"Mumbai and Karachi lobbies have been opposing this move with all their might for the past several years," says Ghuman. These lobbies had vested interest in doing so, he added. Otherwise, it takes 30 to 40 days for the shipment of goods from Mumbai port to Karachi. And cost of transportation and transshipment is 8 to 10 times more compared to sending the goods through Attari land route, he adds.
Giving his perspective of increase in the border trade because of movement of trucks, he said official trade was now worth $ 1 billion. However, soon it would go up to $ 2 to 2.5 billion, he adds. Besides it, trade is also done through indirect channels like Dubai. It is also worth $ 1 to 1.5 billion. With the opening of Attari border, trade through indirect channels is likely to come to an end.
If the border remains open for big trade, all kinds of industry will automatically flock to this region.