5 Indian cities on outsourcing-hubs list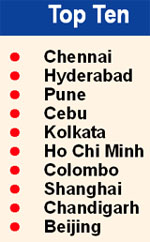 New Delhi, October 2
Reflecting the immense potential of India's information technology and outsourcing prowess, five Indian cities are among the top 10 global emerging outsourcing destinations with Chennai topping the list.
Among the top 10 cities, Hyderabad is ranked at the second position followed by Pune (3rd), Kolkata (5th) and Chandigarh (9th).
The study jointly carried out by Cyber Media's Global Services magazine and investment advisory firm Tholons has drawn up a list of 'Top 50 Emerging Outsourcing Cities' and India is represented with six cities, including Coimbatore (21st), while China has five cities.
The Philippines city of Cebu (4th), Vietnamese city of Ho Chi Minh (6th), Colombo (7th), Shanghai (8th) and Beijing (10th) have also found a place in the top-10 chart.
"With the demand-supply gap widening, newer tier II cities will play a critical role in re-engineered globalisation models," said Tholons chairman and CEO Avinash Vashistha.
Low cost, developed infrastructure, skilled workers and low attritions are the main reasons for Chennai bagging the top spot.
"Chennai is expected to house more than 73,000 workers of the top three Indian IT companies (TCS, Infosys and Wipro) by 2010," the report said.
In addition, it point out, that Chennai is an established location for automotive engineering services, product development and healthcare BPO. It also houses big names like Accenture, Cognizant, TCS, Infosys, IBM, Satyam and Sun Microsystems.
Pointing out that infrastructure development has played a key role in attracting foreign investors to Hyderabad, the study also stated that commercial property rents are quite low in the city.
Pune is home to several educational institutions, making it attractive for IT and BPO services companies like Aviva, Zensar and Cognizant. Also, the city has lower operating costs and low attrition rates, the report adds.
Meanwhile, in Kolkata, the BPO sector has witnessed an attrition rate of 15-20 per cent, whereas the Indian industry average touches 30 per cent. Also, the cost of living is lower compared to Bangalore, Mumbai and Delhi.
"Chandigarh is one of the best-planned cities of India. It has wide, well-maintained roads, and is well connected to the Capital region of the country," the report stated.
Apart from India and China, among the top 50 emerging cities, Brazil, the Philippines, and the USA are represented by three cities each, Czechoslovakia (2), Mexico (2), Poland (2), Russia (2), UK (2) and Vietnam (2).
Further, the Indian cities of Bangalore, Mumbai, Hyderabad, and Chennai, along with Dublin, are rated the best for getting application development and maintenance skill set.
For business analytics, the report has ranked Delhi NCR and Mumbai as established destinations, while Bangalore is one of the emerging cities.
The report also notes that Bangalore, Chennai and Pune are the established places for engineering services whereas Delhi NCR is an emerging city for engineering services.
The cities were selected on different criteria, including scale and quality of workforce, financial, infrastructure, risk environment and even the inclination towards identifying skill-sets and workforce-related metrics. — PTI