Hangar Hiring
Do your ground work to join the field of aircraft repair and maintenance, writes Usha Albuquerque
Today, there are more and more people flying than ever before, yet we seldom think about how safe we are in the air. In recent years, many new airlines companies have been set up, and many more are in the pipeline. More airlines means more planes and also more people travelling in planes. Yet do we think about how safe we are up there? What would happen if the plane were to develop some problem? Well, it almost never does, thanks to the aircraft maintenance engineers.

Cheque them out
PSU banks on hiring spree
New business needs and staff shortages due to retirements have sent the public sector banks on a hiring spree, with four of them planning to recruit close to 5,000 employees over the next few months. While India's biggest lender State Bank of India is looking to hire over 2,700 employees for its various associate banks, other state-run banking institutions like Union Bank of India, Bank of Baroda and Andhra Bank have also lined up plans to expand their workforce by about 2,000 at various junior and middle management levels.

Careercature
Sandeep Joshi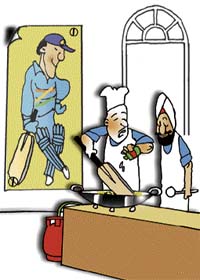 Inspired by the windfall on cricketers, I am also trying to change my career.

Banking on good HR
S.C. Dhall
There is an urgent need for the repositioning of human resources in banking organisations to meet the changing needs. The new-generation private sector banks have, to a certain extent, weaned away the cream of experienced and trained human resources from the public sector banks (PSBs), that too from the lower and middle levels of management that constituted the core customer relations talent pool.

MOOLAH MANAGERS
IIM grads turn crorepatis
The rising accolades for India on the world corporate arena is not benefiting the companies alone, the would-be managers in the country are also getting a pie with job offers running into crores. Still to complete their study, five students at Indian Institute of Management, Lucknow have got pre-placement job offers with an average salary of Rs one crore, all coming from global investment banks.

Eventbuzz
Job fair a huge draw among border youth
Bipin Bhardwaj
The first of its kind in Punjab, a job fair organised by the Union Ministry of industry and commerce, the Indian Trade Promotion Organisation and the Timesjob.com at Gurdaspur recently evoked a massive response. The packed premises of Beant Singh College of Engineering the Technology, Gurdaspur with over 20,000 qualified jobless youth from Gurdaspur, Hoshiarpur, Amritsar and surroundings areas were a comment on the challenge of unemployment before the people in the border belt.

Bits & bytes
Nursing in Singapore
Doctors and nurses from 29 Indian medical colleges and nursing institutes will be able to work in Singapore without any examination, under the Comprehensive Economic Cooperation Agreement between India and the South-East Asian economic powerhouse. The government has identified nine medical colleges and 20 nursing institutes to be recognised by Singapore authorities.

Career Hotline
BOURSES BECKON
Pervin Malhotra
Q Who is a stock broker? Where do they work and what is the eligibility to get into this field?
— Shyam Sunder