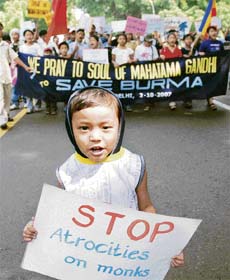 Pro-Myanmar democracy activists raise slogans during a protest in New Delhi on Tuesday. The protesters also demanded the Indian government to review its current foreign policies with Myanmar.
— Tribune photo by Manas Ranjan Bhui
Wily Gowda turns tables on BJP
Bangalore, October 2
Former Prime Minister H.D. Deve Gowda, who has been apparently in the driver's seat since seizing the opportunity given by allegations by BJP tourism minister B. Sriramulu to suspend talks with the BJP, has used incidents to his own advantage and become the protagonist when by all accounts he should have been the defendant.
CM blames BJP for delay
Bangalore, October 2
Karnataka Chief Minister H.D. Kumaraswamy today blamed coalition partner BJP for delay in the transfer of power as "it was not ready to 'sit and talk' with him to thrash out the modalities." "I am ready to hand over Chief Minister's post to the BJP tomorrow itself.
Delayed Cases
Industrial tribunals can't reject workers' claim, says SC
New Delhi, October 2
A practice by industrial tribunals to reject cases of employees merely for the reason of their approaching them with delay has been disapproved by the Supreme Court terming it as a "bad law".
Image conscious Lalu talks tough to RJD workers
Patna,October 2
In what appears to be a conscious move by keeping in mind his development-oriented image as railways minister, Lalu Prasad Yadav is now determined to ensure no more alleged forcible grabbing of seats and berths of bona fide passengers in trains by the enthusiastic RJD supporters during his proposed "chetwani"(warning) rally at Gandhi Maidan on October 28.


Gandhi's message universal: PM
New Delhi, October 2
Affirming that Mahatma Gandhi's message is more important today than ever before since nations across the world continue to grapple with the threat of conflict, Prime Minister Manmohan Singh maintained that his message "of love and peace, of non-violence and Satyagraha, of equality of all peoples, of harmony between all regions is a universal message. In video (56k)

Tributes paid to Shastri
Gandhi my role model: Sunita

President Pratibha Patil pays homage to Mahatma Gandhi at Rajghat in New Delhi on Tuesday. — Tribune photo by Mukesh Aggarwal
Sethu Samudram
Project recipe for disasters: Environmentalists
New Delhi, October 2
With political opinion remains divided over Sethu Samudram project, environmentalists continue to oppose it citing ecological reasons. Terming the project as non-sustainable, the Research Foundation for Science, Technology and Ecology has said excavation of sand from the canal will kill marine life, especially the coral reefs which, with the mangroves, were protectors during the tsunami.
The Ganga is shifting its course
Patna, October 2
The Ganga may have shifted a long way when next time Kumbh is organised in Allahabad. Sources here disclosed that the central government had for the first time recorded the phenomenon, which gathered pace in the past few years.
Bengal clashes over flood aid claim life
Kolkata, October 2
On Gandhi Jayanti today, supporters of the CPM and the Trinamool Congress clashed in Jagacha and other areas in Midnapore district, about 80km from here, over the alleged bungling in the distribution of the relief meant for flood victims.
ULFA: Appeal of Gen provocative
Guwahati, October 2
The proscribed United Liberation Front of Asom (ULFA) termed an appeal made by the GOC, 4 Corps of Indian Army, Lt-Gen B.S. Jaswal, to the families of ULFA militants to call back their misguided boys as 'provocative, threatening and unbecoming of any disciplined Army officer of a civilised democratic country'.
Justice Bedi refuses to hear Punjab plea against Raninder
New Delhi, October 2
The hearing on the Punjab Government's petition seeking the cancellation of bail of former Chief Minister Amarinder Singh's son Raninder Singh and their close relative in the Ludhiana city centre scam case could not proceed further in the Supreme Court, as one of the judges in a division Bench, Justice H.S.Bedi, refused to hear it.
Govt blocks 5 channels
New Delhi, October 2
Taking a tough stand, Prasar Bharati has dropped five channels from its DTH (direct to home) service 'DD Direct Plus' for not paying the carriage fees. The broadcaster blacked out Aaj Tak, Headlines Today, TV9, Akash Bangla and Star Utsav after they failed to pay the carriage fee despite repeated notices and extensions.
Arundhati's Saga
Maneka blames national park for negligence
New Delhi, October 2
Seventyfive-year-old female elephant Arundhati's irreversible condition may have been a compelling reason for the Uttarakhand Wildlife authorities to opt for inevitable mercy killing. But, animal rights activist Maneka Gandhi has pointed an accusing finger at the authorities of Rajaji National Park for criminal negligence in Arundhati's "rescue and care".
General Kapoor to visit J & K
Will pay obeisance at Vaishno Devi temple
New Delhi, October 2
The new Army chief, General Deepak Kapoor, will visit Jammu and Kashmir from Friday to get a first-hand knowledge of counter-insurgency operations in the militancy-hit state and the situation on the border.
Patna HC fines lawyer for frivolous PIL
Patna, October 2
In a remarkable judgement the Patna High Court has slapped a fine of Rs. 10,000 on an advocate for filing a frivolous public interest litigation (PIL) against Manmohan Singh challenging his continuance as Prime Minister despite not being a member of the Lok Sabha.
'Incredible India' campaign bags PATA award
New Delhi, October 2
India was awarded the much coveted Pacific Asia Travel Association (PATA) award for Marketing under the banner of a highly successful 'Incredible India' campaign, at the special awards ceremony in Bali Indonesia yesterday.
16 missing as boat capsizes in Gandhak river
Gopalganj, October 2
As many as 16 persons are feared drowned in Gandak river after their boat capsized midstream near Salehpur village in Bihar's Gopalganj district today.



Videos
Collection dedicated to Gandhi.
(56k)
Tribal protest.
(56k)
Mallika's turning into a pagli.
(56k)
Himesh on a high.
(56k)