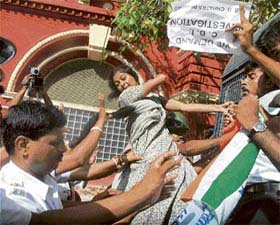 The police arrests supporters of Chatra Parishad who were demanding a probe into the Rezwanur Rehman murder case before Writers Buildings in Kolkata on Wednesday. — PTI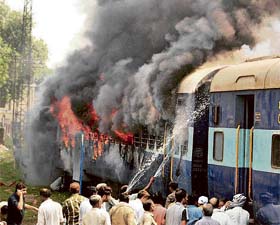 People try to extinguish the fire in Tulsi Express near Allahabad junction on Wednesday. — PTI
SC asks HP for complete data on B.Ed admissions
New Delhi, October 3
To ensure early settlement of a dispute relating to B.Ed admissions in Himachal Pradesh, which has not made any provision for 15 per cent central quota for students from outside the state in the unaided private colleges, the Supreme Court today sought the complete data from the state government on the ongoing admission process by Thursday to decide the issue.
SC's fiat to Centre on foreigners
New Delhi, October 3
The Supreme Court today asked the Centre to explain under what statute certain Pakistanis, whose deportation has been recommended by the Jammu and Kashmir government, continue to languish in prisons.
Help bring a positive change, PM urges media
New Delhi, October 3
Prime Minister Manmohan Singh today exhorted the media and civil society agents to highlight leakages and administrative inadequacy in implementing programmes like the ambitious National Rural Employment Guarantee Programme, which has now been extended to all rural districts of the country.

In video (56k)
BJP chief to meet Deve Gowda
New Delhi, October 3
Determined to maintain cool, in the face of the JD (S)'s aggressive posture, the BJP today expressed hope of a smooth power transfer in Karnataka and looked forward to a meeting between its chief, Rajnath Singh, and H D Deve Gowda in New Delhi on Friday.
BJP ministers boycott offices
Constitutional crisis: Cong
Bangalore, October 3
The Twenty20 coalition saga in Karnataka today saw BJP ministers refusing to play ball by boycotting their offices, even as state Chief Minister H.D. Kumaraswamy continued to bat gamely by fulfilling his public responsibilities in the face of a Congress move to petition the Governor to intervene in the wake of a constitutional crisis.
There will be conditions for power transfer: Gowda
Bangalore, October 3
Former Prime Minister and Janata Dal (Secular) supremo H.D.Deve Gowda today indicated that his party might transfer power to the BJP, but it would come with strings attached. "There are conditions for power transfer," he said here on the eve of going to Delhi to negotiate on power transfer with the BJP as well as preside over a meeting of the JD(S) national executive, which will meet in the Capital on Oct 5.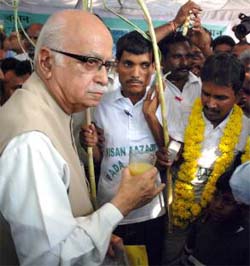 Senior BJP leader L K Advani offers juice to farmers of Andhra Pradesh during their hunger strike at Jantar Mantar in New Delhi on Wednesday. The farmers were on hunger strike to highlight the issue of farmers' suicide in Andhra Pradesh. — Tribune photo by Manas Ranjan Bhui
Speculation over Cong pact with JD (S)
New Delhi, October 3
While the Janata Dal (S) and the BJP alliance in Karnataka appears to be on the verge of collapse, the Congress has decided to adopt a "wait and watch" policy although there is speculation that it could have a fresh alliance with the JD (S) to ward off an early poll.
JD(U) rebel joins hands with NCP
Patna, October 3
In a new political twist a month before the ruling NDA under Chief Minister Nitish Kumar completes its two-year term in office on November 24, the Nationalist Congress party (NCP) joined hands with the JD(U) rebel- leader Upendra Kushwaha.
Mulayam threatens team probing police recruitment
Lucknow, October 3
SP president Mulayam Singh Yadav today threatened to send members of the team investigating the police recruitment to jail if his party returned to power. Addressing a public meeting at Vavrala in the Gunnaur Vidhan Sabha area, Yadav said the Bahujan Samaj Party was merely busy settling political scores by terminating the services of so many men and women from ordinary backgrounds.
Narco-analysis of officers, politicians recommended
Sexual exploitation of women candidates
Lucknow, October 3
SP president Mulayam Singh Yadav today threatened to send members of the team investigating the police recruitment to jail if his party returned to power. Addressing a public meeting at Vavrala, Yadav said the Bahujan Samaj Party was merely busy settling political scores by terminating the services of so many men and women from ordinary backgrounds.
Rajnath asks Sonia to drop Gandhi surname
New Delhi, October 3
In a vehement attack on Congress president Sonia Gandhi, the BJP today asked her to drop her surname if she did not believe in the existence of Lord Ram as Mahatma Gandhi did.
Sonia has said nothing wrong: Karat
Bhopal, October 3
The CPM on Wednesday said efforts were on to reach a consensus with the UPA government over the Indo-US nuclear deal in the next two rounds of talks and there was nothing wrong in Congress chief Sonia Gandhi's reference to Left concerns over the deal in her speech in New York.
Centre defends constitutional provision
27 pc quota for OBCs in Central institutions
New Delhi, October 3
The Centre today defended before the Supreme Court the validity of the provision in the Constitution enabling it to make a law providing 27 per cent quota for OBCs in the Central educational institutions.
Intelligence vital tool in fighting terror: Shivraj Patil
New Delhi, October 3
Laying stress on development and strengthening of intelligence agencies, home minister Shivraj Patil today said that intelligence can be the most useful instrument in containing crime, violence and terrorism.
Memorial to Arundhati proposed
Dehra Dun, October 3
The Uttarakhand forest department proposes to raise a memorial to Arundhati, the 80-year-old female elephant of Rajaji National Park who breathed her last last evening. Her body was buried this evening after postmortem by a panel of veterinarians.
Nuclear energy cooperation with Russia on cards
New Delhi, October 3
India has a busy diplomatic calendar for the rest of the year, which will see a sharp focus on Russia - a country with which civilian nuclear energy cooperation, on the lines of the Indo-US nuke deal, is on the anvil.
Stir for ST Status
Over 25,000 Gujjars jailed in Rajasthan
Jaipur, October 3
Over 25,000 Gujjars, who were among the nearly 65,000 members of the community who courted arrest over their demand of Scheduled Tribe quota status yesterday, are lodged in different jails of Rajasthan.


ENT hospital terms claim as hoax
New Delhi, October 3
A south Delhi-based ENT hospital today termed the claim of a Faridabad teenaged boy about leaves dropping from his ears as 'hoax'.

ENT consultant Dr Arvind Kacker examines Mandeep Singhears at his hospital in Jasoola, in New Delhi on Wednesday. — Tribune photo by Mukesh Aggarwal
'Change norms on blending ethanol
New Delhi, October 3
Punjab has urged the Centre to change the norms concerning blending of ethanol with petrol to boost production of sugarcane and encourage crop diversification in the state.
Goa film fest to focus on serious aspects of cinema
Mumbai, October 3
After years of flirting with Bollywood and C-grade stars from the West, the Goa film festival is all set to become business-like. The Entertainment Society of Goa (ESG), which has been tasked with organising the film festival, has decided to hold workshops and business meets apart from networking opportunities for film-makers.
Sign up to see your name on moon
Hyderabad, October 3
You can now promise yourself the moon! You only have to sign up for a unique international space initiative to display your name on the moon. The International Lunar Observatory Mission (ILOM), an independent project to send an observatory to moon, has invited endorsements from across the globe.
Bus driver hits woman with iron rod in Delhi
New Delhi, October 3
In yet another case of road rage in the capital, a mini-bus driver allegedly hit a woman with an iron rod in full public view following an altercation over rash driving in the capital.
Philippines President arrives today
New Delhi, October 3
Philippines President Gloria Macapagal arrives here tomorrow on a three-day state Visit. She will be accompanied by seven Cabinet ministers including the ministers of health, agriculture, trade and industry, tourism and energy.
Lt-Gen Naidu is Army Vice-Chief
New Delhi, October 3
Lieut-Gen Milan Lalitkumar Naidu, till recently Army commander of the Army's Shimla-based Training Command, has taken over as the next Vice-Chief of the Army. He replaces Gen Deepak Kapoor, who has taken over as the new Chief of Army Staff.
Plane's tyres burst at Mumbai airport
Mumbai, October 3
The tyres of an Air India aircraft, flying between Kozhikode and Mumbai, burst as the flight was landing at the Chatrapati Shivaji International Airport this morning. The mishap occurred while the aircraft touched down on the runway while landing.



Videos
No onion exports for next 15 days.
(56k)
Designer pearls.
(56k)
Priyadarshan's Bhool Bhulaiya is in legal trouble.
(56k)
Youth take over Bollywood.
(56k)