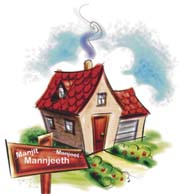 It's all in the name
Lucky charm
Shakespeare's oft quoted saying — What's in a name? That which we call a rose by any other word would smell as sweet; needs to be revised on a priority basis. For today, it's indeed all in a name. Simple confusion over common names like Pooja and Puja or Kapoor and Kapur are already things of the past.
Of virtual identities
The names in the mailing list of computer-savvy kids are bad enough to leave you exasperated, says Saurabh Malik
YOU have been scratching your pretty little head with exhausted fingers thinking of ingenious way to expose your child to "sex education". After all, you understand the need, but the school he is studying in is not really excited about introducing the course.
Big picture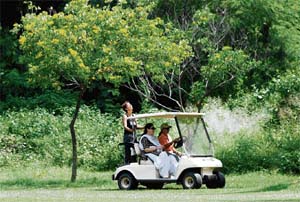 THREE IS COMPANY: Serene surroundings, friends and a favourite sport — A heady way to start the day.
Meet the forget me nots...
It can't get funnier than this. Rewind to the last decade, when you'd often find kids brooding about their names, "What the hell made you name me Pappu/ Prince/ Pinky? Do you have the slightest idea how much these bullies ridicule me at college?" And the poor parents would line up some unconvincing excuses for having chosen these names for their kids. Fast forward to 2007, and whoa, the city's younglings are proudly christening themselves with unconventional, even funny names.
Mouse Art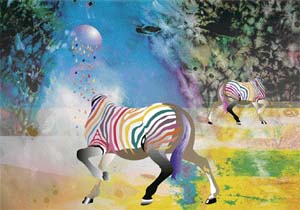 Be it for fun, creative expression or pure challenge, both artists and art collectors are taking to digital art like never before
The colour of the stripes changes at a click of the mouse. His permutations and combinations with form and colour result in two headless colourful zebras in happy surroundings. And after touching and retouching the painting on his computer screen, D.S Kapoor seems a happy man too, for his first painting of the series, called Inspiration, is born!
Inspiration by D.S. Kapoor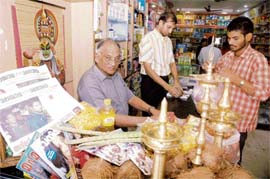 Simply South
From Tamil newspapers to dosa batter, name it & they have it
The minute you enter the store, you feel as if you have just taken a flight to the South. On the shelves is everything a South Indian would want. New Singla General and Provision Store — the name does not sound Tamilian, or Malayali. The young man at the counter even counts in Malayalam. Surprising, right?
Rising Star
Golden Guy
In ghazal gayaki, Naval Mehta is a name to watch out for
Each genre of music has its own aura and mood, thereby alluring the art aficionados with its appeal. Promising Naval Mehta, an Indian classical music addict, chose ghazal. This BA final year student at the Government College for Men here, Naval is the proud winner of coveted top national honour in light classical singing contest at the inter-university finals in Chennai this year.
NEW RELEASES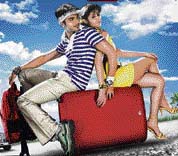 On your mark... get set, GO
Titles at Ram Gopal Varma's factory are getting shorter. So after D, the next shortest film from this camp is Go. Two lovers, Abhay (Gautam) and Vasu (Nisha Kothari), run away from home, little realising that they will soon bang into a bunch of colourful characters, including a rogue cop, a mean killer, a crafty conman and a chief minister who kills his own deputy.
Youth speak
Remembering Ladakh
Chandigarh is an education hub not only for students from the neighbouring region, but also for those from far off places like Ladakh, where I come from. It's a pleasure to study here. I am grateful to the city for providing education to a large number of students from our state. Although, it's not easy to settle in a new place, it's been quite comfortable for us here.
It's a Pink World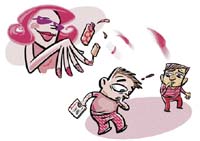 Ever since the Chhote Nawab turned brand ambassador for pink, the colour is unstoppable!
The bubble's been burst. Finally. And minus any crackling, fizzy, funny sounds. Well, lest you mistake this bubble being the metaphor for some myth getting shattered in the light of reality, lets make it clear—our bubble here is a full-bloated tacky pink bubblegum's bubble.
SIDELANES
Friends forever
AS we threw Chuck's ashes down the slope below the hotel at Mussoorie, Dorothy shed tears for a loving father. He had guided her and she lived up to his greatest expectations. He was a man with feet firmly planted in the soil. Chuck was one fourth Cherokee. He passed on that earthiness to his children. The grainy ashes flew around, whipped up into a cloud by the wind.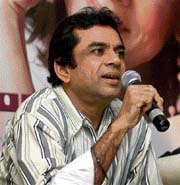 Little Interview
Paresh is so full of life
Hungama, Hera Pheri, Phir Heri Pheri, Bhagambhag and, Malamaal Weekly are just some of the feathers in his cap. Paresh Rawal, who has offered a varied bouquet of bravura performances in these and many more Hindi films, is the man being talked about.
Halle Berry plans ahead
She has one baby on the way, but Halle Berry is already planning for baby No.2. The Oscar-winning actor appeared on the Oprah Winfrey show and told her host that she and partner Gabriel Aubry were going to try for another baby soon after their first child made his or her appearance into the world.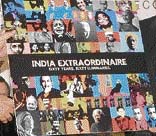 Celebrating India
Commemorating 60 magnificent years of India's Independence, Coca-Cola India launched India Extraordinaire, 60 Years, 60 Luminaries — a special edition of the Limca Book of Records. The first-of-its-kind book catalogues the contribution of 60 Indians.