Varsity Verve
Rs 1.08-crore Centre project for microbiology dept
Amritsar, October 5
Union government's department of biotechnology has sanctioned a major research project of Rs 1.08 crore to the department of microbiology, Guru Nanak Dev University (GNDU).
It's art in motion
Colourful trucks from Pak are proving to be head-turners
Amritsar, October 5
Trucks, it seems, are more than mere means of transport in Pakistan. Decorated with coloured calligraphy these trucks appear to be real pieces of art. The moment the first lot comprising of three trucks crossed over into the Indian territory at the Attari check post on October 3,the mammoth vehicles cast an instant spell on those present at the reception party.

A decorated truck at Attari checkpost. — A Tribune photograph
Youth fest gets a laughing opening with Lehri
Amritsar, October 5
A three-day zonal youth festival for men (A-Zone) of the Guru Nanak Dev University (GNDU) opened with great enthusiasm with the competition in Bhangra at the Dasmesh auditorium of the university here today.


The three-day GNDU zonal youth fest for men kickstarted in Amritsar on Friday. —Photo by Rajiv Sharma
Bhagat Singh's Anniversary
Some anguish amidst lots of celebrations
Amritsar, October 5
Amritsar was the centre stage for the centenary birth anniversary celebrations of Bhagat Singh last week. The fortnight-long cultural extravaganza in Amritsar, planned by the state government, kickstarted with a kavi darbar. Since the event did not prove to be a big draw, it gave rise to doubts whether the tall claims of memorable celebrations will pass the litmus test or not.
Ashish bags north zone chess gold
Amritsar, October 5
Ashish Goyal of class VIII won the gold in the CBSE north zone chess championships that concluded in Ludhiana recently. Ashish was also adjudged the best player in the under-14 category, although the championship was a team event.
CBSE north zone-II judo tourney begins
Amritsar, October 5
The four-day CBSE north zone-II judo championship 2007-08 began at Spring Dale Senior School here today. The championship was inaugurated by Kamaljeet Singh, Director Sports of Guru Nanak Dev University.

A total of 20 schools from Punjab and Haryana are taking part in the event being held at Spring Dale Senior School in Amritsar. — A Tribune photograph
City NCC unit tops CATC
Amritsar, October 5
The Amritsar unit of the National Cadet Core brought laurels to the city by securing over all first position in the combined annual training camp (CATC) and inter group competition organised at Dhuri near Sangrur recently.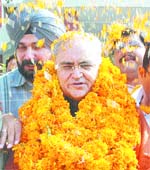 Punjab BJP in charge Balbir Punj was in the city on Friday
Seminar on fracture treatment
Amritsar, October 5
The local Amandeep Hospital organised a seminar on the latest treatment of fracture management under the leadership of Dr Avtar Singh, chief orthopaedic surgeon. A delegation of seven senior orthopaedic surgeons from different hospitals of Germany attended the seminar. The delegation was headed by Dr Josten (Germany).
Campus Buzz
GNDU prof attends intl conference
Amritsar, October 5
"Great leaders seek to build nations by invoking common history, shared beliefs and same destiny in future dispensations for the fellow countrymen," said Kuldip Singh of Guru Nanak Dev University, Amritsar, on his return from Ashgabad after attending an international conference on "Sacred ruhnama".
Students clear quiz round
Amritsar, October 5
Anirudh Singh of class IX and Anmol S.S. Bedi of class VIII, both students of Spring Dale Senior School here have brought laurels to the city by successfully clearing the first round of the Bournvita Quiz contest held at Kolkata, which would be telecasted on TV in January, 2008. — OC