Saturday, October 6, 2007, Chandigarh, India
Updated at 3:00 am (IST)

SC puts Mush future on ice
The Supreme Court has ruled that the presidential election can be held on schedule on Saturday but has kept open all issues, including the eligibility of President Pervez Musharraf to contest the election as army chief, subject to its final verdict.
News Analysis
Benazir's Faustian bargain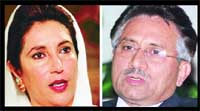 Under tremendous pressure to coopt Benazir Bhutto's Pakistan People's Party in his political game-plan, Gen Pervez Musharraf has conceded to a major demand of Benazir by offering a National Reconciliation Ordinance which will provide indemnity against cases of corruption to all politicians, bureaucrats and businessmen.
Nepal poll put off indefinitely
Finally, Nepal's Election Commission (EC) has been forced to cancel the entire election schedule as the government asked it to suspend its all activities related to conduct of the Constituent Assembly (CA) poll.


US, EU express concern