Unauthorised & overbooked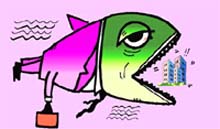 Residents feel duped as builders, who didnít have permission to construct, overbooked flats. To top it, they are now returning truncated amount through cheques that bounce, Ravi S. Singh reports from Faridabad
A large number of investors, who booked apartments and penthouses in colonies to be set up by private builders, feel duped. The area under deliberation is the transAgra canal/ Yamuna, which is billed to be the upcoming new Faridabad city area. It is a new place for the development activity and its perimeter towards the Uttar Pradesh side oversees Noida and Gautam Budh Nagar of UP.
Realtors dial for telecom licence


Surprised analysts question the move, says R. Suryamurthy
THE Department of Telecom witnessed a mad rush by top firms to secure licence. Interestingly, a majority of the participants are from the real estate sector. DoT had set October 1 as the deadline for receiving the application for new telecom licences. And it was flooded with over 500 applications. The mad scramble saw several realty firms vying to get licence. Realty firms, which have entered the fray include DLF, Omaxe, Unitech, Parsvnath, BPTP Properties, Avinija Properties, Indiabulls and Ansals, besides a diversified group, Hindujas.
Govt may revisit rent control Act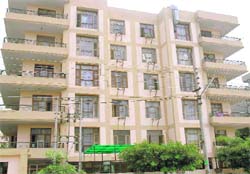 Demand and supply should govern the rentals, says R.P. Malhotra
Quashed on constitutional grounds, growth-oriented Rent Act notification, bringing UT tenants out of the ambit of the Rent Act protection still finds favour with the Chandigarh Administration. A move to re-notify the notification, through proper norms this time, shall be welcomed by all but a few keep vested interests above all. Union Urban Development Ministry is planning to resurrect the Rent Control Act first in the Capital and thereafter, if the states are willing, in all major metros.
Affordable housing a challenge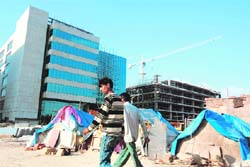 Providing affordable housing to the burgeoning middle-class segment is one of the major challenges faced by the real estate industry, experts said. "We (developers) are catering to the upper-middle class and middle income housing is not existing. The real challenge is to be able to provide mass housing," Unitech Managing Director Sanjay Chandra said at realty conference. Pointing out that the skyrocketing land price was prohibiting development of such projects, Chandra said "the need of middle-class segments could be catered through public-private-partnership (PPP) mode".
Singapore moots SEZs
Singapore has proposed to set up special economic zones in Tamil Nadu and Maharashtra through property developer Ascendas, bringing FDI from the SE Asian economic powerhouse into India.
The old order changeth...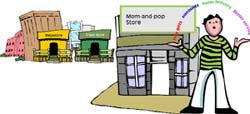 Jupinderjit Singh writes how the humble kiryana-wallah is mutating to combat big-time retailers
A silent but rapid revolution is under way at the neighbourhood kiryana merchantís shop and the long and trusted roadside stall of the vegetable vendor as multi-storeyed retail chains offer quality products at lower rates to attract consumers.
GREEN HOUSE
Fabricate frames & shutters
Jagvir Goyal tells how to manage tenons and meshed doors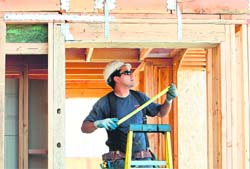 MOST of the house builders prefer to buy wood, get it seasoned and employ carpenters to fabricate frames and shutters at the site of work. Woodwork continues as a parallel activity to all other work and often becomes a hurdle in early finishing of the house. A lot of botheration can be saved if the house builder is vigilant over certain aspects as timely checks can help in eliminating errors. Here are a few basic points, which should be used by the house builder for better workmanship and early completion of woodwork.
DLF plans its very own metro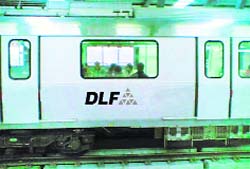 IN a bid to improve connectivity to township and malls, real estate giant DLF Ltd is planning to run its own metro rail in Gurgaon covering about four km at an estimated investment of up to Rs 375 crore. DLF, the country's most valued real estate developer, plans to run own metro rail as feeder service to Delhi-Gurgaon metro line being constructed by Delhi Metro Rail Corporation for providing better connectivity.
TAX tips
By S.C. Vasudeva
Agricultural land is not capital asset as per rules