COLUMNS



THIS ABOVE ALL

TELEVISTA

GOOD MOTORING

AUDIO SCAN

MUSIC ZONE

WEBSIDE HUMOUR

FOR CHILDREN



CROSSWORD

RHYME TIME

ROOTS
King of the board
At 13, he won a national championship. At 17, he became India's first Grandmaster. At 30, he won his first world championship. And, now at 37, this Chennai-born player once again has the world at his feet by becoming the undisputed world chess champion. M.S. Unnikrishnan on the master player of the game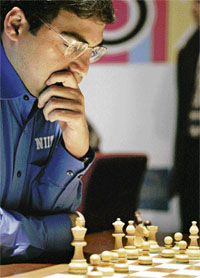 Viswanathan Anand has once again become the World Chess Champion to prove unequivocally that he is the best in the sport. And this time, he has emerged as the undisputed king after slaying the finest players of the game in the world. Mexico City has proved to be a happy hunting ground for Anand, as he regained the crown without a loss in the 14-round, eight-player contest. He won four games, and drew the rest to regain the title after a seven-year gap. The prize money of $390,000 (around Rs 1.5 crore) may not be huge by Anand's standards, as he is reportedly worth over Rs 100 crore, but it's not peanuts either. The cream of world chess was there in the Latin American city to give a shot at the unified title, but none could match Anand's class.



Master moves
Scrooge McDuck, a famous Glaswegian
Disney character 'Scrooge McDuck' is famously known for his stingy ways with money, but now he is being regarded as a famous Glaswegian. Donald Duck's frugal and cantankerous Caledonian uncle, who first appeared in Disney comics in 1947, has his roots in Glasgow. The beaked multi-millionaire has now been included in Glasgow City Council's online list of famous Glaswegians.