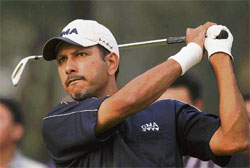 The Indian fairway
It will be a tough contest between the country's top golfer Jeev Milkha Singh and defending champion Jyoti Randhawa, writes M.S. Unnikrishnan
Jeev Milkha Singh may have been on a roll elsewhere, but he will have to prove a point or two when he tees off in the Hero Honda Indian Golf Championship at the spruced-up Delhi Golf Club course next week. This is one crown the ace Chandigarh golfer has never won, and he is keen to correct that flaw.
After a dream run in 2006 when Jeev Milkha Singh lifted four titles and finished on top of the UBS Asian Tour Order of Merit, it's time for him to prove a point at home.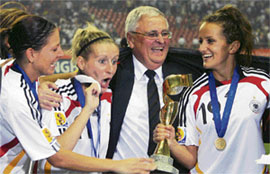 Taking giant strides
Sublime individual talent and entertaining matches drawing big crowds —women's football has come a long way from the World Cup four years ago in the United States. While they are never going to rival the likes of David Beckham, Ronaldinho, and Thierry Henry in the popularity stakes, the best women footballers on the planet proved over the past three weeks that the game has taken giant steps.
BASKING IN GLORY: German players celebrate with president of the German Football Association D.F.B. Theo Zwanziger after winning the 2007 FIFA Women's World Cup football final against Brazil. — AFP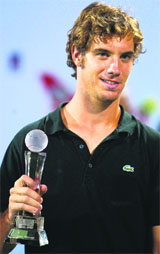 IN THE NEWS
Clinical display
Richard Gasquet of France won his first title outside Europe beating Olivier Rochus of Belgium in straight sets and now he aims for getting back into the top 10 and winning a Grand Slam. He won the Kingfisher Airlines Open tennis tournament without dropping a set throughout the tourney and by clinching first hardcourt title, and that too in tough humid conditions that the youngster is used to, he has proved that his game was suited to all surfaces.





France's Richard Gasquet annexed his first hardcourt title by winning the Kingfisher Open. — AFP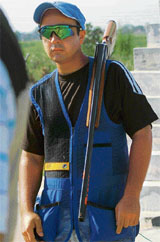 Sharp shooter
Akash Ghai
A youngster has made his presence felt in the shooting arena hitting the bull's eye whenever he got an opportunity. The selectors have now picked up this youngster, 20-year-old Sorab Singh Gill, for the Asian Shooting Championship after his exploits at the World Championship in Cyprus last month. Elated over his selection for the Asian meet, to be held at Kuwait from December 3 to 13, the Delhi-based shooter said: "In Cyprus, I got 109 out of 125 and during selection trials for the Asian championship my performance got better (111/125)."
Skeet shooter Sorab Singh will represent India in the Asian Shooting Championship to be held at Kuwait in December. — Tribune photo by Vicky Gharu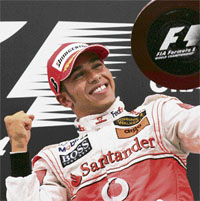 A chequered flag away
Alan Baldwin
McLaren's Lewis Hamilton could be just one race away from becoming the first rookie to win the Formula One world championship, but the party will have to wait. The 22-year-old Briton's father Anthony, a constant presence in the paddock, will see to that. But the next few days will be more about early bedtimes and hard work than champagne and celebration.


Lewis Hamilton has a chance to become the first rookie to take the F1 title. — AFP