Lakhs turn out for rath yatra
Vimal Sumbly
Tribune News Service
Ludhiana, October 6
Thousands of devotees, including hundreds from foreign countries, participated in the Jagannath Rath Yatra taken out by the International Society for Krishna Consciousness (ISKCON) here today.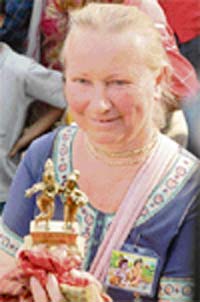 A European devotee carries the idol of Radha and rishna during the rath yatra in Ludhiana on Saturday. — A Tribune photograph
The yatra was earlier scheduled to be flagged off by Chief Minister Parkash Singh Badal. However, Badal could not come due to the death of the son of senior Akali leader Balwinder Singh Bhunder.
People came out of their houses, shops and vehicles to have the darshan of Lord Jagan Nath, mounted on a specially decorated rath. It moved slowly as there was a huge rush of devotees. It took about six hours for the rath to complete the 6-km yatra from Durga Mata Temple, near Jagaraon Bridge, to Durga Temple in Sarabha Nagar.
The yatra started in the afternoon. As it moved ahead thousands of people joined it. The number of people kept on increasing as it moved towards the final destination, Durga Temple.
The entire route was fully decorated with huge hoardings and big banners greeting the yatra. Thousands moved along the rath right up to the final destination chanting "Harre Krishna, Krishna, Krishna, Harre Harre".
Probably for the first time the organisers of the yatra and the traffic police acted in tandem. Route diversions were announced in advanced and the people did not face many difficulties. People preferred alternate routes as directed by the police.
Devotees from foreign countries, including the USA, the UK, Russia, Ukraine, Uzbekistan and the Philippines, have descended on Ludhiana to participate in the yatra.
Some of the devotees said they had a long association with ISKCON. Like Vichitra Sunder Dass of Ural state in Russia, who has been associated with the movement since late seventies. Dass, whose original name was Valleri, said his life had transformed after joining the ISKCON movement.
"It gives you inner peace and once you have peace within there would be total harmony outside," he remarked, while claiming that he had realised his inner peace. He has been moving around the world to spread the message of Swami Prabhupad, the ISKCON founder.
Janardhan Dass was born in Philpine. His original name was Joram Cadorna. It was in Toronto that he came into contact with ISKCON and decided to devote his entire life to the movement for healing the world.
There were some young girls like Leela Prema (originally Lisa) and Nandimukh (originally Natalia) from Russia, Dayawati (originally Diana) from Ukraine and others, who said, they had felt the ISKCON movement most appealing.
Mahamanan Dass, co-zonal secretary of ISKCON, North, said they would be setting up the world's largest temple at Mayapur in West Bengal.