Sketchy journey
India: A Journey Through a Healing Civilisation
by Shashank Mani. HarperCollins, New Delhi. Pages XIII + 213.
Arun Gaur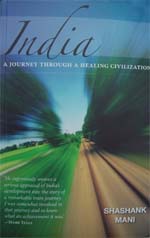 n 1997, the author organised a chartered train journey that started from Mumbai with 200 young men and women. The aim of the journey was to see what India has achieved so far and what remains to be done and how it should be done. The 13 chapters of the book tend to describe the encounters at different places, including Mumbai, Ahmedabad, Tilonia, Jaipur, Amritsar, Delhi, Lucknow, Bodh Gaya, Jamshedpur, Kolkata, Hyderabad and Aurangabad. In all, 15 cities and two villages were covered in 22 days.
At every halt, the participants made an in-depth analysis of the causes of success of the most important institutions of the place and came to some important conclusions. For them, Gandhi becomes the original social and political entrepreneur. Tilonia model village in Rajasthan teaches them how an existing village can be transformed into a modernised structure without imitating the West. The IT sector of Hyderabad and the South is an evidence of the zero digit of Aryabhatta—now attached to the microchip—coming back to India. The Bajaj auto factory at Aurangabad suggests how important it is to take intelligent risks if you want to emerge a winner in a fiercely competitive industry. Similarly, much is learned from
other places.
Besides this, on-site experience and learning, the discussions were held on the train specifically in the areas relating to population control, agro industries, entrepreneurship, environment and globalisation. Particularly interesting is the analysis of the difference between the North and the South. While the North is demographically more progressive, we can learn from the South how to build up a solid economic order. To progress India has to expand her base in service-based and agro-industries.
However, the book seems to be suffering from various pitfalls. It is all rather sketchy. In spite of the fact that out of 200 participants, 10 were handicapped and some from rural and poor families, the book smacks of elitism. Much space has been devoted to the meaningless details of how the author went to ministers, Members of Parliament, chairmen and managing directors of different boards, business tycoons in the US and the UK to raise funds for this journey. At every place of visit, the meetings are arranged with dignitaries—the Maharaja of Jaipur, the Magasaysay award winners, industrial magnets and the like. A well-known documentary director from London films the train-journey and there is a considerable press hype.
I have seldom come across poorer descriptions of Ellora caves or Jallianwala Bagh. Also the attempts to create compartment scenes or humour just fail. Ideas that we have here are scattered and disjointed. For these, we need not go on a long trip. We can have them after gleaning through some magazine articles or management textbooks or simply by holding a one-day conference. In fact, they could have been better presented in a thirty-page well-written booklet.
The book is described at the back as "the story of an extraordinary emotional adventure." If it is a story, it starts and ends a little promisingly with not much in-between—no plot, no character delineation, no excitement, no climax. Nothing extraordinary we would find here since neither it touches real India nor it provides a treasure-trove of ideas. It does not move our feelings or emotions since there is no evoking description. And hardly there is anything adventurous beyond sometimes clinging to train-window bars.
For me it is a private sketchy record of an industrial-cum-management on-site training trip visualised in a bigger-than-average elitist format.