The making of a legendary club
Chelsea Football Club: The Official History in Pictures
by Rick Glanvill. Headline.
Pages 224. `A312
M.S. Unnikrishnan


Roman Abramovich is using his wealth to get the best deal for Chelsea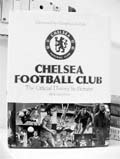 When the "billionare from nowhere," Roman Abramovich, bought Chelsea football club "lock, stock and barrel" on July 1, 2003, many fans believed that he was yet another "money bag" out to dunk his wealth on a sinking ship. But the tycoon was no dumb gambler out to play Russsian roulette with his wealth. He was out to make money no doubt, but he was also determined to make Chelsea turn the corner. Once Abramovich was in charge, he embarked on the "biggest act of wealth distribution in world football" to hire prized players at a mindboggling cost.
"Within six weeks, I think I'd spent more than any other chief executive had spent in his lifetime. I think it got to about `A3120 million", noted Chief Executive of Chelsea, Trevor Birch, (in 2005) who had played a catalytic role in Abramovich's acquisition of the club.
With Abramovich ready with his money, the "special one" to produce the winning formula, Chelsea became a club "that would take on the mightiest in the world, that could recruit almost any player it wanted."
"I have many much less risky ways of making money than this. I don't want to throw my money away, but it's really about having fun and that means success and trophies", said Abramovich, about his foray into Chelsea.
Sure enough, Chelsea's trophy shelf once again started filling up with silverware, notable among them being the Premiership Trophy, which came to the club after a 50-year wait, beating Liverpool 3-2. Chelsea has become the best team in Britain, if not in Europe", writes Gianfranco Zola in the foreword.
This image makeover has happened to a club whose motto was to "play your football with little pressure to actually win anything — entertaining the crowd and reaching the odd semi-final always seemed to be good enough". The saga of Chelsea has been beautifully chronicled in the book by Rick Glanvill, who is also the author of the acclaimed Chelsea FC: The Official Biography.
The book is an ode to the glorious history of Chelsea, partly also the history of English football. The club was born at a watering hole of the elite, Rising Sun, in 1905, and have had an up-and-down ride during its century-old journey. No surprise, Chelsea's first board of directors was "sports mad and heavy drinking, but a high-powered and entrepreneurial one". Chelsea was not a high society club, but eminent supporters like actor Richard Attenborough would bring famous people around to make its image soar. "Whatever its fortunes, England's fifth-best supported team has always written headlines, on and off the pitch, and happily there were photographers, cartoonists, eyewitnesses and journalits to record the events", observes Glanvill in his introduction, explaining how the history of the club was put in perspective.
The club had such a magnetic appeal, despite its sullen record of hooliganism, that even the dashing Manchester United star George Best (known as the 'fifth Beatle' in his hey day clamoured to play for the club which he fulfilled in 1971 in Peter Osgoodtestimonial. And Chelsea's Blue is the colour was an all-time great anthem.
The pictorial voyage into the past and the present, interspersed with illustrative prose, is not only an account of the evolution of a club, but also the evolution of a people, a culture, their lifestyles, their changing mores and modes, their sartorial tastes, etc.
The Wars wrought havoc on the club and also on the people, but the resilience and resolve of the people at the saddle in Chelsea not only saw the reconstruction of the club, but also its emergence as a force to reckon with. But true to its wont, the club continues to maintain its inconsistency and unpredictability.
And this trait of the club was evident a few months ago when it lost to Manchester United 0-3 on penalties after a 1-1 draw in the title clash of the Community Shield in London.
FA Cup holders Chelsea, the blue-and-white jersey wearing team, captained by the hugely talented John Terry and coached by Jose Mourinho, could have stood up to United in every aspect, and be counted, but it capitulated in the shoot out.
Players associated with Chelsea have always shown unswerving loyalty to the club and some of them have even spurned lucrative offers from elsewhere to serve it. "I discovered the simple joy of football at Chelsea", notes Gianfranco Zola in the foreword.
Zola stayed on to play more than 300 games, won many medals, was voted Chelsea's "greatest ever player in 2003" during his seven-year stay to nurse an enduring love for the club.
The story of Chelsea's first 101 years is told through evocative pictures and acerbic cartoons with biting wit and sarcasm, accompanied by eye-witness accounts from supporters, players, managers, newspaper reports etc.
The book nicely captures the "yo-yo" image of Chelsea — up and down between first and second division — variously described as the Pensioners' Club and the Blues.
The lavishly illustrated book provides a peep into the heritage of a club that rose from near bankruptcy to become a dominant force in English football.