Hollywood Hues
Love bites
Ervell E. Menezes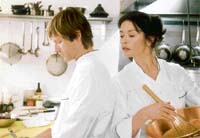 Aaron Eckhart and Catherine Zeta-Jones in No Reservations
With women's lib well into its fourth decade, their ascendancy in the corporate world is only too well known and therefore become ideal subjects for the celluloid world. If we had Meryl Streep as the ruthless fashion editor in The Devil Wears Prada, you have Catherine Zeta-Jones as the obsessive, unrelenting chef in No Reservations.
Kate (Zeta-Jones) is a control-freak chef who wants to be mistress of all she surveys in the 22 Bleecker Restaurant kitchen in New York and even the owner Paula (Patricia Clarkson) prefers to keep out of her way. But she is stressed and`A0has to visit her psychiatrist (Bob Balaban) quite often.
Her fairly ordered world is thrown totally out of gear when she is forced to look after her niece Zoe (Abigail Breslin). Worse still when on a brief sojourn`A0a high-spirited, freewheeling rookie chef Nick (Aaron Eckhart) is employed at 22 Bleeckers, she finds that this Italian-origin guy wins a lot of admirers, including Paula. He also has a fondness for opera and the kitchen is booming
with Pavaroti.
There's more trouble in store when Zoey takes to Nick and his warm and winning ways. The hard-as-nails chef has to be broken in and, not surprisingly, it is Zoey who becomes the catalyst. Shades of Raising Helen, the incompetence of professional women on the home front is graphically dealt with. But more importantly director Scott Hicks doesn't rush into the story.
He is aided by an imaginative screenplay by Carol`A0Fuchs who is able to infuse the pauses in the right places. And as the story moves along two fronts it accounts for variety. The attention span too is looked after. The yummy cuisine is tempting and Katequail and truffle sauce a hit but thankfully it doesn't go overboard with food. The kitchen cameos are also well etched.
But if Kate wants to forge a real bond with Zoey and also find happiness with Nick and with it a new zest for life, she has to make some important choices. No prizes for guessing correctly`A0but the plot has its twists and turns. The music is an embellishment with La Dona emobile and Sway With Me being especially catchy. There is also an intimate romantic scene (taking a morsel from her lips and eating it) right out of`A0Yves Montand and Candice Bergen`A0in Claude Lelouch's Live for Life at least three decades ago.
Catherine Zeta-Jones is excellent in the lead role and brings about the change of heart quite convincingly and she is supported by an enthusiastic Aaron Eckhart. Abigail Breslin too turns in a sensitive portrayal much more convincing as the overrated kid in Little Miss Sunshine for which she was nominated for an Oscar.
Patricia Clarkson and Bob Balaban (who was in India for the three-minute sequence in Close Encounters of the Third Kind in the mid 1970s) provide good cameos. It may not be the greatest romance ever made,`A0but No Reservations is a sweet little love story.`A0 Predictable in a way,`A0but still enjoyable.