Aiims: Ailing Institute
The All India Institute of Medical Sciences (AIIMS), established in 1956 as an institute of national importance by an Act of Parliament, is the country's premier medical institute for referral and research purposes. Lately, however, it has been in the news for the wrong, often 'unhealthy,' reasons. Tripti Nath looks at what ails AIIMS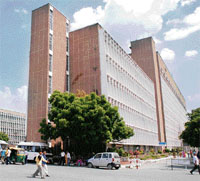 Every now and then, one gets a request from acquaintances and friends for an appointment with A IIMS doctors. The institute inspires immense confidence across the board—among the poor, the middle-class and the elite. Patients and their caregivers travel great distances from various corners of the country to join serpentine queues in Out Patient Departments (OPDs) and speciality clinics just for an opinion from the doctors.
A landmark in Delhi, the Institute attracts 9,000 patients a day in OPDs and speciality clinics. It has 50 OPDs and 152 speciality clinics (Monday to Saturday) open 300 days a year. The emergency is open 24 hours round the year and caters, on an average, to 500 to 600 patients a day. A study done by AIIMS in 2003 inferred that 26,500 vehicles are parked in the Institute everyday.
Expansion plans
As part of its redevelopment plan, the administration wants to go in for a multi-storey parking lot. The bed capacity of 2200 will be increased to 4500 when additional speciality centres come up. In the pipeline are centres for geriatric care, renal diseases, liver diseases, genetic and molecular biology, besides a surgical block and the school of public health.
AIIMS also runs a comprehensive rural health project in Ballabgarh to train MBBS students and resident doctors in community health. It also runs the National Drug Dependence Treatment Centre in Ghaziabad.
Rated as the best teaching institute among the medical colleges by two magazine surveys, AIIMS enrols 50 MBBS students every year from the total of more than 75,000 who appear for the MBBS entrance examination. Of these, five seats are reserved for foreign nationals and 13 are reserved. In the postgraduate entrance examination, about 30,000 doctors appear for 270 seats.
Bouquets & brickbats
AIIMS claims to publish 1300 to 1400 papers in national and international journals and 25 to 30 books every year. In its glorious days, till mid-1970s, AIIMS was compared to Mayo and Cleveland Clinic. Professor S.N. Mehta, former Head of the Department of Surgery at AIIMS says, "The Parliament and the government should take some concrete measures to preserve AIIMS. Such institutes are made once in the life of a nation."
A large number of poor and semi-literate patients, in the words of a former faculty member, "are kicked around", the hospital administration insists that the hopsital is pro-poor. They cite Newsweek's report of October 2006 describing AIIMS as "an oasis for India's poorest," which says that 3.5 million patients were treated in AIIMS in 2005.
Controversies galore
Sadly, the institute is divided into pro and anti-Venugopal camps, both using unparliamentary language against each other.
Maneka Gandhi, member of the Parliamentary Standing Committee on Health, says that Health Minister Anbumani Ramadoss is the only minister who has received condemnation twice by all members of the Standing Committee, in issues related to AIIMS.
Dr Shakti Gupta, Medical Superintendent and spokesperson contends that controveries have not compromised the excellence of AIIMS.
Senior faculty members maintain that its prestige has definitely suffered a setback as it is embroiled in a needless controversy rooted in irreconcilable differences between the Health Minister and the Institute Director, Professor P. Venugopal, a celebrated heart surgeon. They allege that the Health Minister is a scar on the institute and is constantly working at cross-purposes with the Director. Most doctors have not forgotten how the Institute Body headed by Ramadoss, in July last year passed a resolution terminating the tenure of the Director, Professor Venugopal. Thanks to the Judiciary, Venugopal had the last laugh and will complete his five-year tenure.
As President of the Institute, Ramadoss' refusal to sign degree certificates of doctors is the most recent example of his autocratic way of functioning. Not to forget that he has postponed the convocation and gone back on his own promise. Overcrowding, alleged favouritism and gross irregularities in appointments, feudal atmosphere, in some departments in the name of autonomy, autocratic functioning of an individual, have taken its toll on the reputation of AIIMS.
Gross negligence
Three alarming cases of negligence have come to light. The most recent is that of a 76-year-old woman suffering from cataract who was operated in the wrong eye on September 20 at the Rajendra Prasad Centre. The National Human Rights Commission has sought a factual report on this case from the AIIMS Director.
The case of Ayesha Begum, where doctors negligently removed a breast without accurately finalising the diagnosis of a maligant tumour, is fresh in public memory. In another case, a 65-year-old woman alleged that doctors left a piece of cloth in her stomach after a gall bladder stone operation in July end. The Health Secretary has called for a report.
A former faculty member whose association with AIIMS is as old as the institute says, "AIIMS is still the best. There is overcrowding because we are paying the price for our popularity, credibilty and professionalism. The image has suffered because of the number of patients. It has reached a saturation point in terms of the number of patients attending the OPD, emergency and the hospital for surgeries."
On the burden on AIIMS, Anoop Saraya, Convenor of the AIIMS Front of Social Consciouness, says "It is up to the government to create proper infrastructure at the periphery so that people don't come to the Institute for minor ailments, otherwise this tertitary care centre will crumble under the workload. Around 8,000 to 10,000 patients come to the Institute every day. At times, I examine 100 patients a day stretching the OPD till 3 pm. So do other doctors."
Overburdened doctors
Doctors are overburdened with work and have to manage time for clinic, classroom teaching and seminars, not to forget examining patients at out patient departments and speciality clinics.
Dr M. Ramam, Additional Professor, Department of Dermatology and Venereology agrees that doctors have a tough job to do. "The number of patients that come to the hospital are large and have complex problems. They are financially challenged and our ability to treat them is limited by their financial status. You have to find a remedy that will work and will not pauperise their families."
A senior faculty member whose association with AIIMS spanned nearly five decades says that creating AIIMS-like institutes in select states to lessen the burden on AIIMS will help only if the selection of doctors and faculty is good. "A five-star building with state of the art facilities is of no use unless there is rich human resource comprising dedicated and committed doctors."
Saraya says, "We will continue to work for the institute which is still rated as the best with all its limitations, controversies and deficiencies."
Dr Saraya, in the forefront of the campaign against commercialisation of health in September 2005 on user charges says, "The administration said that the Medical Superintendent would have the discretion to exempt the user charges for investigation and procedures, in case of poor patients. This was not practical. On an average, they were generating Rs two to three lakh per month. They could not utilise Rs 80 lakh the same year sanctioned to the Institute under the plan head."
In June 2006, the institute withdrew user charges following a campaign. More than 100 MPs, led by Nirmala Desphande, signed a memorandum opposing user charges and gave it to the PM. Saraya says, "There is no dearth of funds but they wanted to pass on the burden of their financial mismanagement to the poor patients. Early last month, the hospital management board had on its agenda (item number 24) a proposal to introduce the concept of pay clinics. We said that this would lead to diferential earning and change the character of the Institute. Teaching and research would take a backseat. The administration deferred a discussion on the proposal after resentment from a section of the faculty."
Dr Shakti Gupta says that the proposal to start two-hour pay clinics after working hours was aimed at generating revenue and lessening the load on OPDs and pay clinics. He said that the issue could not be taken up as there were 32 points in the agenda.
Opposing the FAIMS proposal to the Pay Commission for a hike in salaries and establishment of pay clincs, Dr Saraya says, "The basic aim of the institute is to provide healthcare to the poorest of the poor. By following this model we will be denying them treatment."
Caste factor
Casteism is a reality in India and AIIMS is not untouched by it. Charges of caste discrimination on the campus have been levelled by students and, more recently, by a faculty member. Dr Suman Bhaskar, a Radiation Oncologist has had to move the National SC/ST Commission in the absence of any grievance redressal mechanism in the institute. An SC, she alleges that resident doctors have boycotted her and don't carry out her instructions of monitoring patients, thereby endangering their lives.
A three member committee appointed by the government to look into allegations of differential treatment of SC/ST students in the institute, accused the AIIMS Director of "playing a pivotal role in instigating the anti-quota agitation" in May last. A committee set up by AIIMS in May to review the findings of the Thorat Committee has rejected its findings and described its composition as biased. Dr Saraya alleges that the institute is denying reservation in faculty and resident selection despite a clear-cut High Court order of 2001 that the institute has to follow the reservation policy of the government. "We are in favour of equal opportunties and that is possible only through affirmative action to remove disparities," says Saraya.
Dr Shakti Gupta disagrees with the charges. "There may be stray cases of discrimination. As far as reservation is concerned, we are following government guidelines at all levels." The AIIMS Director avoids the Press like plague. Sources say that he has been advised by his lawyers not to speak to mediapersons. Those opting for cost-effective treatment at AIIMS should be prepared to make a choice between time and money.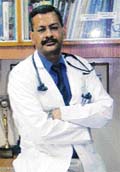 Dr Anoop Misra
In the last three years, more than half a dozen senior faculty members have left AIIMS. Last summer, three senior, high-profile doctors associated with AIIMS for nearly three decades, left. They left because they were disillusioned with the system.
Professor V.S. Mehta, Chief of Neurosciences Centre, and Dr Anoop Misra from the Department of Medicine, bid adieu to the institute in April last year. Four months later, Professor S.N. Mehta, Head of the Department of Surgery and Chief of Kidney transplant services quit and joined Indraprastha Apollo hospital as a senior consultant. He said, "I had ceased to enjoy my work for almost two years and decided to consider the offers that were coming my way. In my 27 years of association with AIIMS, I had never seen an administration that was so indifferent to the needs of the department and the institute." In May 2005, Dr Sabyasachi Bal, lung surgeon quit his job as he felt he had not got a fair deal from AIIMS. Professor V.S. Mehta, Director of Neurosciences at Paras Hospital, Guragon left AIIMS on April 1 last year as he was "disgusted with the work environment." Dr Sandeep Vaishya, Additional Professor, Department of Neurosurgery, left AIIMS in March last year after 14 years of service to join Max Super-Speciality hospital in Saket as Senior Consultant, Neurosurgery and Spine Surgery. "I wanted a fresh challenge. The gradual change in the work environment at AIIMS was disheartening." Dr Anoop Misra, Director, Diabetes and Metabolic Diseases Department, Fortis Hospital, Saket, quit the Department of Medicine. "When I joined AIIMS as an undergraduate in 1978, it offered a very good learning platform. The students were very bright. The calibre of students is now second rate. The best students are no longer opting for medicine."
"My colleagues in Cornell University and Johns Hopkins in the United States still remember the clinical teaching that they received at that time." Misra, honoured with the Padma Shri this year and with the B.C. Roy Award in 2006, says "In the last 10 years, it has really nosedived. Most top-notch doctors at AIIMS have now left either for the US or joined private medical institutions. Those who are left are overburdened by cinical work." Misra says there was no incentive by way of award or recognition to carry on. "The overall academic level as well as service was deteriorating. We could not give the treatment prescribed in medical literature. No new equipment was in sight. Machines were neither working nor properly serviced." Dr Sabyasachi Bal, Lung Surgeon, quit his job as Additional Professor in the Department of Surgery at AIIMS in May 2005 to join Fortis Group of Hospitals as Associate Director, Department of Pulmonology and thoracic surgery. "I joined AIIMS in 1993. It gave me the opportunity to practice my skills. Whatever I'm today is because of AIIMS," says Dr Bal.
Dr Manoj Singh, executive member of the FAIMS (Faculty Association of AIIMS) says, There is no way the government can recompense us for the money that doctors can earn in the private sector. What the government can do is to improve our living and working conditions. We submitted a representation three months back to the Pay Commission for a hike in salaries. We have sought an increase in the academic allowance, research funds and better accommodation." — T.N