Indian art at great heights: Raza
Parveen Chopra

A month-long Raza retrospective is being held in New York
Indian contemporary art has reached unprecedented heights in the world, said Sayed Haider Raza, one of India's most prominent and critically acclaimed modernists, at the inauguration of his first ever retrospective in the US.
He attributed the phenomenon to Indian painters' "understanding of Indian culture as well as of today's world".
The month-long Raza retrospective at Saffronart gallery in New York comprises 50 of his major works spanning 60 years of his artistic career and is drawn from key collections around the world.
Raza singled out some Indian painters for praise, including Tyeb Mehta, Akbar Padamsee, Krishen Khanna, V.S. Gaitonde, Sujata Bajaj, and, of course, M.F. Husain.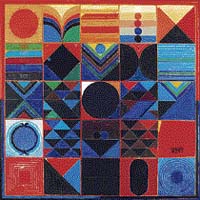 Prakriti (2000) by Raza. Acrylic on canvas
Raza, however, expressed his sadness at undue focus in the media on art prices and tendency to turn that into headlines. "Money is important, but write about the artistic expression too," he said.
Talking about his own artistic career, Paris-based Raza said it took him 30 years in France to understand what painting is. In the second phase, he started using Indian iconography and symbolism, resulting in his current oeuvre.
When asked to pick a favourite painting, Raza chose Prakriti (2000). It brings together, he explains, symbols of the five elements and signifiers of fertility and fruitfulness in a geometric framework, underlining the inter-relationship of the key components of the universe and the interconnections of our humble lives within it.
The 85-year-old painter said his ambition was to create large canvases — in size and scope — pouring his whole lifetime's experience into them.
Raza, known for creating many canvases around the bindu or dot, said a painter had to go deep into his material. "Concepts like yoni-linga and garbha graha can become vulgar if taken lightly," he said.
He said though he had been to ashrams, his spiritual practice pertains to "discipline and a personal act of directing myself to lead a pure life."
Saffronart, a leading online auctioneer of contemporary Indian art, released a detailed monograph on Raza at the retrospective opening. The retrospective will continue in Mumbai and London next year. — IANS