On the safari trail
A visit to Masai Mara, one of Kenya's most stunning game reserves, is a lifetime's experience... leaves you wanting more, says Thomas Abraham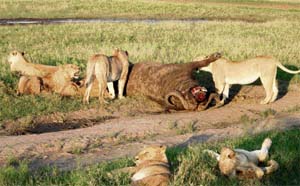 An unforgettable sight at the reserve: A pride of lions tucking into a buffalo while the satiated lionesses laze nearby
Cheetahs chasing antelopes, lionesses feasting on a buffalo, zebras ambling across the road — where do you see all of this on one day? Maybe on the National Geographic Channel.
But this one was for real — very real. A visit to the Masai Mara in Kenya — home to the greatest game show in nature — is truly breathtaking. From our small Beachcraft, we can see vast expanses of rolling grasslands scattered with acacia woods and bush. As our plane circles around for some minutes to let the giraffes cross the landing strip we know it's the Kenyan Safari all the way.
Here we were — 32 loud-speaking, grown-up Indians all excited and perhaps more animated than even our children. We had planned the trip to this special ecosystem for over a year but yet, most of us, were checking the itinerary only on arrival — in typical dekha jayega style.
Masai Mara, often called the park of all parks, is one of Kenya's most stunning game reserves and plays host to the annual migration of wild beasts. The chocolaty Mara river travels along the park heading westward to Lake Victoria, through neighbouring Tanzania's Serengeti National Park.
There are Landrovers waiting for us and our oversized bags. The ride to the Fig Tree Camp is made all the more interesting with Didane our guide and driver, who could put the anchor of any wildlife channel to shame with his knowledge and precise narration.
Grassy landscape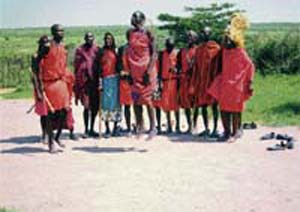 Protectors of wildlife: The Masais are nomadic herdsmen —Photos by Ishan Abraham
The luxury of the Fig Tree Camp took over our senses in the evening with food and wine driving us like bees to honey. We slept in exotic tents, which had a mix of permanence and wildness about them. The contrast hit us in the morning when the curtains were drawn. It was grass all around us. Nothing had prepared us for this sight. Nothing ever could. We are told that the green landscape is due to the abundant rains which start around November and go up to June.
Still bleary-eyed at 6.30 in the morning, we were bundled back into our respective Landrovers to head for the Masai Mara National Reserve. It is spread over 1510 sq km and interestingly is administered by the local council with some of the tourist monies flowing into the local coffers for development of the Masai tribes. Masais are herdsmen still proudly aloof from western civilisation.
The reserve is known for the high density of game and has some of Africa's largest prides of lion as well as huge herds of cheetahs, elephants, rhinos and buffaloes. Apart from them, you have plenty of other exciting game like the elegant antelopes, the lustrous zebras and the towering giraffes.
As soon as we entered the sanctuary we realised that this day was going to change our perception of game viewing. Here we were amidst lions and their cubs taking out a buffalo piece by piece. It all seemed unreal but was a sight to behold.
The Masais are very protective of their grasslands and their wildlife. They never kill animals as they bring them tourists in hordes.
It was interesting to see some satiated lionesses lying around until it was time for the next kill. The lions we were told prefer to relax while the females go for the hunt and emerge in the open only when the 'dinner gong' goes off.
Date with predators
Even as the lions and lionesses were tearing into the buffalo it was interesting to watch hyenas and vultures sitting at a safe distance and waiting for a chance to scavenge. The lions had their heart's fill for the next two days of our stay. Once the group of lions receded to quieter and shadier environs, the scavengers got into the act and moved in. Many of us used our newly acquired handycams and cameras from the Dubai duty free shop to good effect
As we wound our way from these short grassy environs, which are densely habited with animals, to slightly taller grass we saw some magnificent wildlife. We spotted three cheetahs which, we were told, were still in their teens. The cheetah, probably the most attractive 'cat', is a delight to watch as it has a deceptively gentle look, soft bark and long spotted tail.
Suddenly these three cheetahs sprang to their feet as they saw a grazing topi (antelope). This was our 'moment' of the trip as we saw the terrified topi leap into the air and sail over the cheetahs, which chased in vain. Soon the elegant and swift antelope trotted to a safe distance from the panting cheetahs.
Such scenes we were told are very rare to see. Many tourists wait for days at certain spots to see a chase. We were lucky to see it on our arrival itself. Feeling exhilarated we rode back to the camp passing more 'game'.
Each animal at the park evoked a different emotion in our mind. Some animals looked wild and savage, while others like the antelope looked serene and peace-loving. There were the crafty monkeys and the obese rhinos. Yet they all seemed to co-exist in harmony — at least on the surface. Nature teaches us in subtle ways and a visit to a wildlife park can be a very rewarding experience. And an African Safari is a once in a lifetime experience. — NF
Fact file
Getting there: Most international flights go directly to Nairobi. Masai Mara is a 45-min flight from Nairobi. You have the option of taking a taxi — available at the airport. It is a scenic drive via Narok and the Rift Valley.
Places to stay: There are lodges and luxury tented accommodation. The Fig Tree Camp is popular as it right in the midst of the wild
Getting around: It is best to be part of a safari package, which includes accommodation, transportation and meals.
Best time: If you plan a trip in winter then go between January and February. In summer the best time to visit is July to September.