Just for jest
Randeep Wadehra
The humour in The Great Indian Laughter Challenge is at times gross
Ever since its inception, humour on TV has changed from the near sublime to the earthy both in form and content, acquiring more range and variety in the process.
Wagle Ki Duniya epitomised the genteel, understated family comedy that remains unmatched and, mercifully, un-remade till date. Mercifully, because you just can't recapture the pristine aura of a classic original. Other family comedies that remain etched on one's mind are Yeh Jo Hai Zindagi and Dekh Bhai Dekh.
Today we've different genres to choose from – slapstick, satire, farce, etc. Practical jokes played by the respective teams of MTV Bakra and Chupa Rustam continue to amuse us even as Sab Ka Bheja Fry offers a chortling mix of slapstick, satire and farce. But Cricket Crazy on Star Cricket is a tepid fare. Although 'clean comedies' like Instant Khichdi, New Office Office and, to some extent, Yes Boss have managed to retain loyal viewership among families, a paradigm shift accompanied Hum Paanch when dialogues became slightly earthy in order to lend authenticity to Kajal Bhai's character. This comedy serial did not resort to profanity, and was probably one of the few superhit sitcoms that a family could enjoy.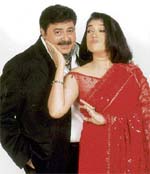 Shows like Sarabhai vs Sarabhai endure with good humour
Thence the floodgates opened up and raunchy dialogues, double entendre and low humour became the norm on channels telecasting stuff like Chori Chori Chupke Chupke, FIR etc. Star One's The Great Indian Laughter Challenge has decided the issue once for all in favour of pop humour where gross gags and coarse wags titillate, sounding the death knell for classy, subtle and sublime humour.
Off-centre humour has monopolised the small screen as epitomised by Sony's Comedy Circus; of course quite a few of its episodes have been rib-ticklers, especially the takes on iconic lovers like Heer-Ranjha and Sohni-Mahiwaal. However, satire has caught on as the latest telly trend. If the sophisticated Rendezvous with Simi Grewal was mercilessly lampooned by the wonky transvestite character called Girebaal then the sardonic takes by the Sajid Khan-Suresh Menon duo did not spare our political, sports, media and film celebrities. The latest in this genre is Ranvir, Vinay aur Kaun (Star One) anchored by the Bheja Fry twosome.
The guests on the show have been the likes of Mika, Shan, actresses from Chak De India and others from the entertainment world. Many will find the proceedings juvenile and the humour flaky. For example, the Onam-eve Punjabi-Malayalee 'spat' with Lola Kutty was definitely tacky and belonged to the 1960s when preaching national integration was in vogue. The show could've made better use of her iconic stature as one of the two successful female comedians-cum-anchors on Indian television — Archana Pooran Singh being the other. However the episodes featuring Asrani, Javed Akhtar and Mona 'Jassi' Singh were a class apart. If Asrani's vigour and Javed's sophistication were a treat then Mona's unaffected demeanour coupled with her sense of humour charmed. Obviously, the show has carved out a TRP-enabled niche for itself. Recently the Ranvir-Vinay team was featured on NDTV's Bombay Talkies — no mean recognition this.
However, for better or for worse, there has been a paradigm shift in the quality of comedies. Stand-up comics are becoming increasingly bold and inventive. Politically incorrect, sexist and ethnic jokes are no more a taboo. Barbs targeting those who are dark-skinned, ordinary looking, or physically/mentally challenged do not attract any protest or censure. Instead, such 'comic' renderings have elicited guffaws and claps. Perhaps the British novelist Angela Carter was right in defining comedy as tragedy that happened to other people.
Nonetheless the enduring quality of good humour can be gauged from the fact that one enjoys repeat telecasts of Sarabhai vs Sarabhai even today on Star One, whereas stand-up comedies, with their risqu`E9 and forgettable gags, often impel us to switch channels.
Shakespeare's remarks are pertinent here, "A jest's prosperity lies in the ear/ Of him that hears it, never in the tongue/ Of him that makes it."